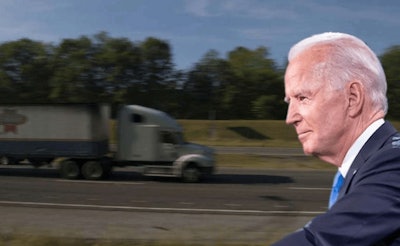 Former Vice President Joe Biden has said the distribution of 100 million COVID-19 vaccinations within his first 100 days in office will be a top priority for his administration now that he's been officially sworn in as the 46th President of the United States.
But beyond fighting the COVID-19 pandemic — where Biden also is considering mask mandates for federal buildings and a push to safely open schools — the new president is yet to firmly commit to many substantial policy goals for the first months of his presidency.
More financial assistance for American citizens and businesses battling the economic impacts of the pandemic are likely to be considered, and President Biden and his slim Democratic legislative majority may push for improvements to strengthen national health care and the Affordable Care Act. The fallout of his predecessor's administration will also undoubtedly remain headline news, though how much Biden personally pushes the Senate to hold a second impeachment trial remains to be seen.
Regardless of how he proceeds, President Biden has a lot on his plate.
Yet even if transportation and trucking are unlikely top of mind for the former vice president as he ascends to the nation's top job, there is reason to believe Biden and his administration won't take long after taking over to start pushing for changes that will have downstream impacts on the trucking industry.
Climate change
Climate was a key tenet of President Biden's campaign and is one area where a president can take swift action without requiring much, if any, legislative support. Biden is re-entering the U.S. in the Paris Climate Accords this week, and will quickly work to use executive action to undo a number of regulatory rollbacks put in place by President Trump.
Trucks, Parts, Service sister publication CCJ also reported last month that Biden has named John Kerry, former Secretary of State, and Gina McCarthy, former EPA administrator, as his "special envoy on climate" and "climate czar," respectively, to work with federal agencies to help enact Biden's climate change plans. The new president has called for the nation to reach net zero emissions by 2050, an unquestionably lofty goal, and one that would fundamentally change the North American trucking industry.
Though no federal regulations or U.S. states require commercial truck fleets to operate zero-emission vehicles (ZEVs) at this time, California's Air Resources Board (CARB) stated last summer it will require every medium- and heavy-duty truck sold in the state to be a ZEV by 2045, and 15 other states pledged to do the same by 2050.
Whether Biden's administration leverages California's plan to enact a national strategy toward its 2050 goal is yet unknown, but any efforts the new president takes to reach his campaign climate goals could upend an industry that remains quite loyal to the internal combustion diesel engine. Energy analysis firm Wood Mackenzie estimated only 2,000 electric trucks were in use in the U.S. in 2019, an infinitesimal percentage when compared to the 3.9 million Class 8 tractors in operation that year. And even though Wood Mackenzie estimates the electric truck population could grow to 54,000 units by 2025, that number would still be a mere 1.4 percent of the total truck population (assuming no market growth, which is unlikely).
And if that's not enough, some experts say the jury is still out on whether electric vehicles are the right solution to achieve ZEV goals. In California, nine state legislators recently sent a letter to Gov. Gavin Newsom urging the state to take a "technology-neutral approach to emissions control, which they say thus far has largely favored all-electric vehicles," CCJ reported, noting concerns about the impact electric vehicles could have on California's outdated and overburdened electrical grid.
"Our electrical grid remains increasingly unreliable. Wildfires and public safety power shutoffs continue to exacerbate that problem," wrote Roxana Bekemohammadi, executive director, Western States Hydrogen Alliance, in response to the California legislator letter.
For their part, North American OEMs seem aware of the likelihood that Biden, CARB, other states and future administrations are likely to continue striving toward net zero emissions, even if deadlines like 2045 and 2050 are not yet set in stone. Each major truck OEM has introduced at least one electric ZEV in recent years, working proactively to shift their product line to ensure they can meet future requirements.
"Volvo Trucks is committed to lead the commercial transport industry towards more sustainable solutions by advancing electromobility. We will continue to invest in and drive the development of this technology, both globally and right here in North America," said Peter Voorhoeve, president, Volvo Trucks North America when introducing the electric VNR in November.
At Paccar, which debuted electric trucks for Peterbilt and Kenworth last year, the company is also working with CARB to offer purchase vouchers for fleets ordering electric vehicles and offer a turnkey leasing package for interested carriers.
Regarding electric vehicles, PacLease Assistant General Manager Mike Willey notes, "Our customers don't have to go-it-alone. We're here to make it all work seamlessly. We don't simply lease the trucks; we lease the program to ensure it all comes together without headaches down the road."
Infrastructure
Another area Biden could prioritize in his first 100 days or early in his term is improving the nation's sagging infrastructure.
President Trump held his now infamous "Infrastructure Week" in June 2017, and in February 2018 unveiled a $1.5 trillion plan to enhance the nation's infrastructure over the next decade. But despite the announcement and bipartisan rhetoric at the time claiming infrastructure was a priority, Trump's plan never generated serious discussion in Congress and nearly four years later no substantial infrastructure legislation has come close to becoming a reality.
Yet the need for improvements to the nation's infrastructure only continues to rise. As we reported last March, infrastructure investment has a high positive correlation to economic development. With COVID-19 continuing to hamper the nation's economy, a substantial investment to improve and modernize roads, bridges, railways and other vital sectors could be a boon for many industries, including trucking.
Truck Renting and Leasing Association (TRALA) President and CEO Jake Jacoby told TPS when discussing federal excise tax in 2019 that traditionally infrastructure is one of only two topics (the other being agriculture) that are regularly debated in Washington without becoming too contentious.
That may not still be true. Washington is decidedly more partisan today, though President Biden's messaging since Election Day and during his inauguration has been mainly focused on unity. In either case, there are reasons for Biden to push for an infrastructure plan as soon as possible.
In addition to the aforementioned potential economic development, any major infrastructure development also would be extremely laborious in nature. Biden's campaign website states he wants to "create millions of good, union jobs" to rebuild the nation's crumbling infrastructure and "to lay a new foundation for sustainable growth, compete in the global economy, withstand the impacts of climate change and improve public health, including access to clean air and clean water."
Biden's decision to select Pete Buttigieg to lead the Department of Transportation spurred cautious optimism toward infrastructure investment in Washington, Bloomberg reported last month.
But while infrastructure investment could offer benefits to trucking from a practical vehicle safety and business growth perspective, there's also concern among the carrier community about how much truck owners will be on the hook when the bill comes due. Buttigieg campaigned on a $1 trillion infrastructure plan that included, among other features, a vehicle miles tax (VMT) to replace the fuel tax. VMT is widely opposed by the American Trucking Associations (ATA) and various owner-operator driver groups.
Nevertheless, in congratulating Buttigieg on his nomination, ATA President and CEO Chris Spear appeared hopeful.
"Transportation is an issue that touches all Americans — urban, rural, coastal and in the heartland of our nation," Spear said. "Having served as a mayor, Pete Buttigieg has had an up close and personal look at how our infrastructure problems are impacting Americans, and how important it is to solve them … We look forward to rolling up our sleeves and working with him to begin the important work of rebuilding our nation's infrastructure."
In accepting his nomination, Buttigieg said he hopes to help the Biden administration deliver policies and resources that will create jobs, address climate change while continuing to ensure the safety of the American transportation grid.