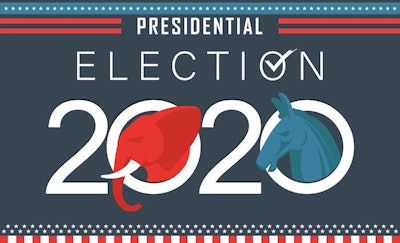 In most presidential election years, now is typically the point during the campaign in which both candidates have announced their running mates, finalized their platforms and officially accepted their party's nomination in front of adoring supporters at an enthusiastic convention.
This is not a typical election year.
With COVID-19 relegating the Democratic and Republican National Conventions to bunting-covered Zoom meetings and eliminating voters from attending the upcoming debates, the 2020 presidential campaign is unlike any other in American history.
The coronavirus pandemic might have affirmed the essential status of trucking, but it also has taken away the conventional methods in which trucking can learn more about the candidates that will define the industry's future.
As Election Day comes ever closer, Trucks, Parts, Service looks at how the re-election of President Donald Trump or election of former Vice President Joe Biden could impact the industry.
President Trump's biggest sales pitch to trucking today is the same message he used to win the presidency in 2016, says Ann Wilson, senior vice president of government relations, Motor & Equipment Manufacturers Association (MEMA). Trump wants a strong economy. During his first term, he's lowered tax rates and reduced regulatory overreach to get there.
Wilson says the Tax Cuts and Jobs Act passed in 2017 was hugely beneficial for MEMA and its Heavy Duty Manufacturers Association (HDMA) member companies and enabled the automotive and heavy truck markets to see record business growth in 2018 and 2019. Truck dealers sold more than 527,000 new trucks last year while aftermarket parts sales grew by 5.7 percent during the same period.
President Trump's Environmental Protection Agency (EPA) also has rolled back or paused a number of vehicle emission regulations, extending the useful life of America's vehicle population and reducing pressures to quickly adopt higher cost low- or zero-emission powertrain technology.
Each move strengthened the transportation industry and could be levers President Trump chooses to pull again if re-elected, Wilson says, though business uncertainty around COVID-19 could lessen their impact compared with his first term.
The president also could take on infrastructure spending if he wins a second term, welcome news for all corners of trucking.
Wilson expects a short-term highway reauthorization package to be passed before the election to keep the nation's roadways temporarily funded and says the president could consider a more substantial package in the years ahead. She says a Republican Senate with Trump "is probably the best recipe to get it done quickly," though a Republican Senate with Biden "could get it done but it would take longer," and likely be different in makeup.
The American Trucking Associations (ATA) was vocally supportive in July of the Trump Administration finalizing a rule to reform the National Environmental Policy Act (NEPA) that speeds up the review process for investments in American's roads and bridges. A 2018 report from the American Road & Transportation Builders Association indicated more than 54,000 bridges in the country are "structurally inefficient." America's roads aren't any better.
Says ATA President and CEO Chris Spear, "This is good news for truckers, the motoring public, our economy and the environment … This cumbersome review process presents an enormous obstacle to modernizing our outdated infrastructure, contributing to more traffic congestion and the harmful emissions that come with it."
But President Trump being re-elected wouldn't assure smooth sailing for trucking through 2024. The president's uneven response to COVID-19 and trademark impulsiveness present challenges for trucking that could last well into a second term.
FTR President Eric Starks says the White House maintaining its status quo regarding COVID-19 could prohibit trucking from returning to pre-pandemic business levels until late 2021 at the earliest. As a cyclical industry, Starks says trucking is capable of adapting to ebbs and flows in business. But with no end to the pandemic in sight and no federal action plan underway, many companies are struggling to determine their best path forward.
Earnings reports were down across the board for all segments of trucking in the second quarter, and few businesses predict optimism for the quarters ahead. Wilson and HDMA President and COO Tim Kraus say their members are doing what they can to fortify their operations, but the task becomes more daunting each day.
Adds Starks, "When you're operating in an environment such as this, it can be hard to predict what's ahead and what to prepare for."
There's also the matter of recovering from the sheer devastation created by the virus. More than 179,000 Americans have died from COVID-19. The nation's unemployment rate, which set 50-year lows in 2019, climbed to nearly 15 percent in April and still remains above 10 percent. At least one million Americans filed for unemployment for 21 consecutive weeks between March and August — totals the nation had never once experienced since it started tracking claims in 1950.
The president also doubled back on the North American tariff debate last week, reinstituting tariffs on aluminum from Canada (the Canadians responded with a dollar-for-dollar retaliatory tariff) less than two months after signing the U.S.-Mexico-Canada Agreement (USMCA) trade agreement.
President Trump's pro-business platform is weakened if the nation is unable to freely conduct business.
"The last thing companies need are additional tariff increases on necessary materials," says MEMA President and CEO Bill Long. "The action will adversely impact already suffering U.S. consumers by raising the costs of new vehicles as well as parts necessary to repair and maintain motor vehicles."
For former Vice President Biden, winning over the trucking industry at the ballot box appears unlikely. But if the longtime legislator does ascend to the presidency, his established D.C. career working with both Democrats and Republicans could help thaw a federal government that has become increasingly partisan and fractured in recent years.
Starks says he can see the former vice president first focusing his attention on coronavirus, dedicating federal resources to institute national strategies to curb the spread of COVID-19. Starks says such an effort would likely create more economic hardship at the outset, but also could enable a stronger, steadier recovery on the other side if the virus can be brought under control.
"[Biden] seems much more willing to curb COVID-19 as much as possible and get the country on the same page," he says.
A more stable, cooperative manner with legislators, regulators and other nations also could prove useful. President Trump's unpredictable, combative nature may be his trademark, but it also can be challenging for businesses who rely on consistent government action to devise business plans.
While many in the transportation sector have supported the president's efforts to confront China on trade, fighting for security of American intellectual property and market equality, the uneven pace of negotiations and selective tariffs (such as Canada last week) that have been levied on goods from across the globe have caused headaches for trucking's global supply chain.
Additionally, while President Trump has been content to allow the market to make its own decisions regarding vehicle safety and air quality technologies, Wilson notes MEMA and HDMA members spend an enormous amount of time and money on research and development and "at some point, there needs to be a decision" regarding what standards manufacturers will be expected to reach in the decades ahead.
Conversely, while Biden's support for more progressive air quality standards would unquestionably add expense to future truck development and ownership, it also could establish those standards Wilson says manufacturers seek to know. Starks says it's a case where trucking might not love the rules, but at least the industry would know exactly it needs to do next.
But a clear path forward may not be much of a sales pitch for trucking if said path is costly, Starks adds.
Former Vice President Biden has expressed support for various aspects of the Green New Deal (though not the entire platform itself), a sweeping environmental policy legislation package released in 2019, and could support stiffer EPA regulations on commercial transportation, following the steps taken during President Barack Obama's two terms in the White House.
The Biden campaign plan touts a strategy that would enable the nation to achieve a "100 percent clean energy economy and net-zero emissions by no later than 2050." Considering such a lofty goal in such a short period of time, Starks, Wilson and Kraus note it's hard to imagine any path forward for trucking that doesn't substantially raise the cost of commercial vehicles.
And with more than 95 percent of today's heavy-duty trucks running on ultra-low-sulfur diesel fuel, achieving the former vice president's goal would require fundamentally altering trucking's refueling infrastructure to support electric vehicle charging, Kraus says.
"How are we going to charge all of these vehicles?" he asks. "It's not like we can plug them into wall outlets."
There's also ATA (and trucking's) great concern for improved foundational infrastructure — the roads, bridges and railways that support the nation's economy. The United States hasn't passed sweeping, comprehensive infrastructure legislation in years (despite a perceived willingness from both sides) and while many believe former Vice President Biden would consider the issue, he is likely to devote fewer funds directly to essential highway repairs than President Trump.
"If the Democrats sweep into power in the White House, and take the House and the Senate, climate-related infrastructure spending will undoubtedly be a priority," says Robert Bryce, a Texas-based author and journalist who has covered the energy sector for three decades.
But the roads won't fix themselves, ATA notes.
"An injection of real capital into our degraded infrastructure will jumpstart the economy — creating hundreds of thousands of good-paying, private-sector jobs in blue-collar trades — and strengthen its commercial arteries to support long-term growth," says Bill Sullivan, ATA executive vice president for advocacy.
Whoever wins the presidency in November also may be forced to deal with a combative Congress, though that problem isn't new.
Many of President Trump's biggest policy victories came with Republican majorities in both chambers in 2017 and 2018; split leadership in the House and Senate has led to fewer pieces of legislation becoming laws during the 116th Congress since at least 1973.
Early congressional projections are notoriously uncertain, but today it appears former Vice President Biden is slightly more likely to have dual chamber support if elected than President Trump (though neither party has a strong chance of unilateral control). In that case, it's likely trucking's future will again be defined by executive orders and regulations and not the legislative process.
"If our industry changes much, it seems like it will be because of EPA or NHTSA," Kraus says.