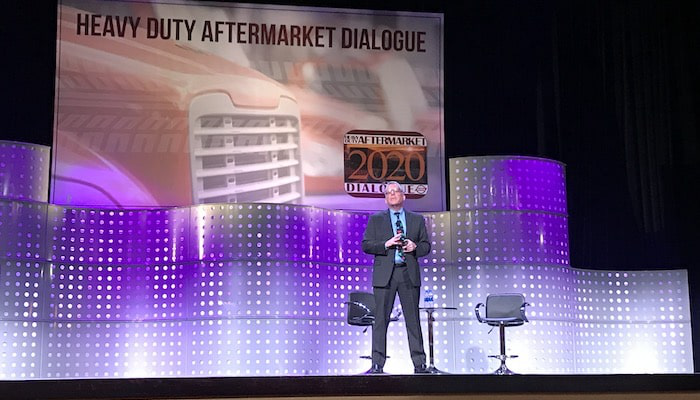 Talk to anyone in the trucking industry and they'll tell you 2018 was a year for the ages. Turns out 2019 wasn't so bad either.
During his annual market report Monday at Heavy Duty Aftermarket Dialogue (HDAD) in Grapevine, Texas, MacKay & Company Vice President of Sales and Marketing John Blodgett reported U.S. aftermarket sales for Class 6-8 tractors and trailers grew by nearly 6 percent in 2019 to $31.6 billion. The Canadian market was a tick softer with a 4.0 percent year over year growth but still cleared the $4 billion parts market for the first time in history.
Expectations for 2020 aren't quite as strong but, overall, Blodgett says the aftermarket enters this new decade in good shape.
Looking back first before looking forward, Blodgett says aftermarket parts sales for the U.S. dealer and distributor channels grew month over month for three consecutive years from 2017 to 2019. He says the dealer channel was the stronger of the two segments overall with both segments peaking in early 2018 and slowly fading over the last 18 months.
Blodgett says MacKay & Company is currently predicting a 1.2 percent sales bump for the U.S. in 2020 with a compound annual growth rate (CAGR) of 3.2 percent through 2024. The company's forecast for Canada is slightly stronger, with a 4.1 percent increase in 2020 and 3.8 percent CAGR for the next five years.
As he wrote in Trucks, Parts, Service last week, Blodgett says 2020 is going to be a year of buts in that it won't be great, but it won't be terrible either. And he adds there are reasons to presume future years will be better.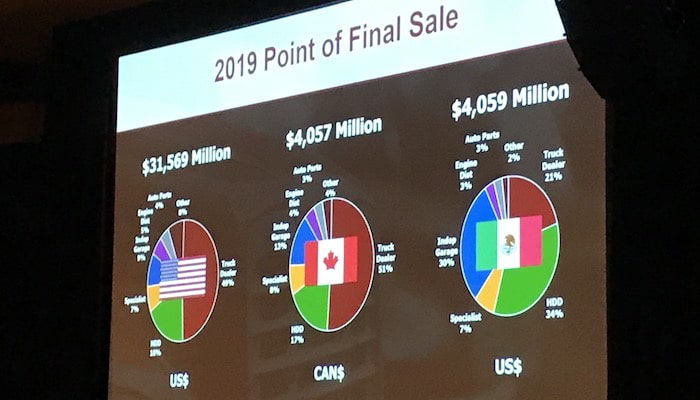 One of those good signs is equipment sales. After 2018's order records and last year's high delivery numbers, Blodgett says the new vehicle market will be due for another uptick in a couple years. And with the economy still unassumingly steady, fleet utilization is likely to remain high — well above the trough found from 2008 to 2012. Blodgett also adds few fleets are actually parking trucks due to a lack of business; slips in utilization are overwhelmingly "related to a lack of qualified drivers."
As for what he's hearing from the market, Blodgett says 57 percent of independent distributors and 91 percent of dealers ranked 2019 as equal to or better than what they projected last January. He says those same businesses are anticipating growth of 2.5 and 1.8 percent, respectively, in the year ahead.