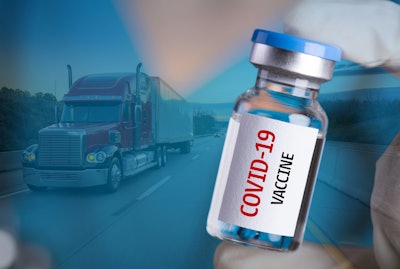 Very few members of the dealer and independent aftermarket channels have contracted COVID-19 over the past year. That's a good thing because even fewer of the industry's workforce have received one of the available COVID-19 vaccines, reported responders to Trucks, Parts, Service's reader survey on COVID-19 business conditions last month.
Among aftermarket parts and service professionals, 27 percent of TPS survey responders said no one in their business had contracted the novel coronavirus as of late last month. That segment was slightly higher in the dealer channel, where 29 percent of responders said their workforce had yet to have a confirmed COVID-19 case.
Additionally, most aftermarket and dealer businesses that have experienced COVID-19 firsthand have been fortunate to keep case rates low. Slightly more than half (52 percent) of aftermarket responders and 58 percent of dealers have kept their workplace positivity rates at or below 10 percent for the duration of the pandemic.
Businesses in the dealer and aftermarket channels that have experienced higher case numbers are a rarity. Just 8 percent of aftermarket responders and 4 percent of dealers have experienced workforce infection rates above 25 percent.
Unfortunately, vaccine rates are even lower.
Nearly 80 percent of all TPS survey responders (77 percent among aftermarket responders, 79 percent among dealers) reported no one in their business had received a COVID-19 vaccine as of the completion of our survey. Every remaining dealer responder (21 percent) and 17 percent of aftermarket responders said their workforce vaccination rate was at or below 10 percent. Only six percent of aftermarket responders had vaccination rates of better than 11 percent, and only a third of that group (2 percent of total aftermarket responders) have surpassed the 50 percent vaccination threshold.
Vaccination rollout has been prioritized by the new presidential administration and nationwide vaccination efforts are on the rise. But even with more push from the federal government, it is clear that the industry has a long way to go to reach herd immunity. In the meantime, responders say they'll keep managing the pandemic as best as they can, prioritizing workplace sanitation and operational efficiency to keep employees safe and avoid worker absences due to COVID infection and quarantine regulations.
"We've got to use common sense," says one responder. "Our business is essential and we have continued to stay open to serve our customers. We have to keep doing what works until we can put this thing behind us."