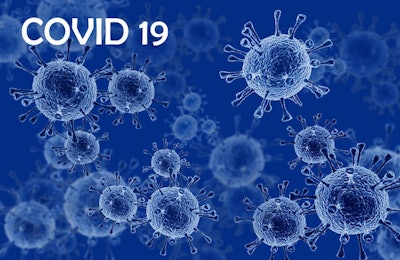 Economic reports are beginning to be released which estimate the global fiscal and economic impact of COVID-19 (coronavirus) on transportation markets and global supply chains.
The Institute for Supply Management (ISM) on Thursday released the first-round results of its survey focused on the disease, while Tuesday ACT Research published its most North American Commercial Vehicle Outlook, the first Outlook report by the company to address the growing pandemic.

Clickhere to view our full coverage of the coronavirus' impact on the trucking industry from the leading industry publications of Commercial Carrier Journal, Overdrive, Truckers News and Trucks, Parts, Service.
ISM reports in its recent survey nearly 75 percent of companies report supply chain disruptions in some capacity due to coronavirus-related transportation restrictions, and more than 80 percent believe that their organization will experience some impact because of coronavirus disruptions. Of those, one in six (16 percent) companies report adjusting revenue targets downward an average of 5.6 percent due to the coronavirus.
"The story the data tells is that companies are faced with a lengthy recovery to normal operations in the wake of the virus outbreak," says Thomas W. Derry, CEO, ISM. "For a majority of U.S. businesses, lead times have doubled, and that shortage is compounded by the shortage of air and ocean freight options to move product to the United States — even if they can get orders filled."
ISM says other data produced through the survey include:
57 percent noted longer lead times for tier-1 China-sourced components, with average lead times more than doubling compared to the end of 2019.
Manufacturers in China report operating at 50 percent capacity with 56 percent of normal staff.
More than 44 percent of respondents do not have a plan in place to address supply disruption from China. Of those, a majority (23 percent of respondents) report current disruptions.
Of the companies expecting supply chain impacts, the severity anticipated increases after the first quarter of 2020.
Six in 10 (62 percent) respondents are experiencing delays in receiving orders from China.
More than half (53 percent) are having difficulty getting supply chain information from China.
Nearly one-half are experiencing delays moving goods within China (48 percent).
Almost one-half (46 percent) report delays loading goods at Chinese ports.
"We're seeing that organizations who diversified their supplier base after experiencing tariff impacts, are potentially more equipped to address the effects of COVID-19 on their supply chains," says Derry.
ACT offered a similar outlook in its recent report.
"Starting in the second half of February, COVID-19 went from a China containment story to one of spiraling pandemic," says Kenny Vieth, ACT president and senior analyst. "Six weeks after shutting down for the Spring Festival, China is only now starting to return to work."
And while they weren't working, Vieth says the Chinese weren't spending either. As the planet's largest consumer of commodities, China's downturn is hitting commodity prices across the board.
"While demand-side weakness will continue to unfold, the front-and-center impact from a freight perspective presently is on the supply-side: Domestic port and rail volumes have just begun to reflect the drop in Chinese output," Vieth says. "Being a supplier of intermediate and finished goods, there are major implications for a number of freight-intensive economic sectors, and we are just on the cusp of feeling that pinch."
Other travel to and from China also has been impacted.
According to ISM's survey results, more than 60 percent of companies that ordinarily travel to China have no plans to do so over the next six months. Additionally, nearly one-half (47 percent) note travel to other international areas is subject to extra scrutiny or limitations, with the most mentioned areas being Korea, Italy, Japan, broadly Europe, Hong Kong and Singapore.
As for how the virus will impact equipment sales, Vieth says ACT's updated outlook is unfortunately negative.
"COVID-19 has undermined expectations across the board in 2020," he says. "Starting with lower expectations for economic output, medium-duty, heavy-duty and trailer forecast have all been trimmed to reflect the drop in economic activity. Beyond substantive changes in the immediate near-term, our longer-term assumptions are unchanged presently with expectations that markets will recover to trend starting in 2022."