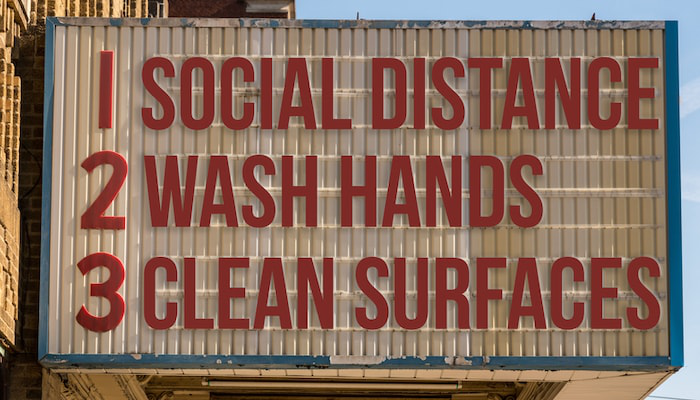 As the coronavirus, COVID-19, rapidly makes its way across the globe, business owners in every industry are being forced to foundationally alter their operations to ensure the safety of employees and customers.
Lockdowns of nations in Europe and provinces in China have completely shuttered non-essential businesses; companies allowed by those governments to remain open are attempting to work with a skeleton crew. North America hasn't experienced any full lockdowns yet — a Shelter in Place order in California's bay area is the most substantial restriction thus far to be implemented — but many state governments have prohibited major gatherings and forced restaurants to close dine-in areas to reduce the spread of the virus.
Clickhere to view our full coverage of the coronavirus' impact on the trucking industry from the leading industry publications of Commercial Carrier Journal, Overdrive, Truckers News and Trucks, Parts, Service.
In the trucking industry, where the expediency of freight to ship Coronavirus test kits, medical supplies, food and other essential household items is as important as ever, the aftermarket parts and service channel has been forced to restructure its businesses on the fly in a matter of days.
With six locations in Washington state, including one in the county where America's first case of COVID-19 was confirmed in January, few businesses in the aftermarket are facing the pandemic challenge head on like Six Robblees'.
President Andy Robblee said as of Tuesday evening all of the company's 22 locations remain open, though California's Shelter in Place decision has forced the closure of some of its customers' operations there, where the company has two stores. Due to its location near the epicenter of the pandemic's U.S. expansion, Six Robblees' was made aware of the Centers for Disease Control and Prevention (CDC) social distancing guidelines several weeks ago and has been aggressively following all safety precautions. Robblee says Six Robblees' is somewhat fortunate in that other than its Seattle corporate headquarters, most of its stores "only have a handful of employees on site at one time."
Across the country in New York, the team at DeCarolis Heavy Duty Parts has instituted several policies that reduce communal events within its facilities and enable business to be done with minimal person-to-person interaction, says Greg Rawleigh, general manager. Among the company's new policies: Employees are only allowed to access the building in which they normally work and must only use the computer and phone at their workstation; vendors making deliveries are only allowed access to the company's receiving dock; and customers are only allowed access to designated areas at each of the company's nine locations.
Similar processes are popping up at customer facilities, Rawleigh adds. "They are requesting deliveries be made to one central location, [with] no packing slips and emailing copies of invoices," he says.
With more confirmed cases of COVID-19 than any other state, New York also has been aggressive like California and Washington in its attempt to stop social gatherings and reduce spread of the contagion. Rawleigh says thus far DeCarolis has only been forced to alter hours at one of its stores, though every new day presents its own logistical challenges. Shelter in Place orders are under consideration across New York and Washington; Robblee says one of his larger branches could be impacted and forced to close any day.
Rawleigh and Robblee also say they have enabled employees who can work from home to do so but are still reliant on most of their workforce to come into their facilities to keep business operating — so long as they are completely healthy.
"We are not allowing any employee exhibiting any symptoms of any kind to work," says Robblee. "We have a generous paid sick-leave policy; it's in place for times like these."
He adds Six Robblees' hasn't had any employees test positive for COVID-19 but an employee has been tested. "The handful that have come in potential contact have self-quarantined until given the all-clear from a doctor," he says.
Rawleigh is doing the same, asking employees who exhibit cold or flu-like symptoms to go home and paying them while they are away. The hard part is deciding when an employee can come back. "We are currently working on procedures to clear an employee to return to work," he says.
With no end to the pandemic in sight, Robblee says he's come to accept "the business climate has changed dramatically."