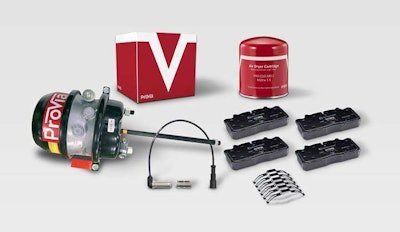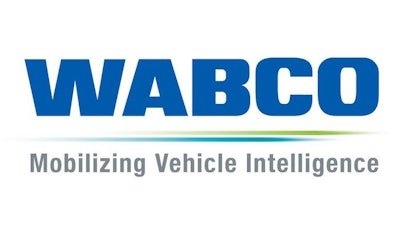 WABCO Holdings announced Monday that through the termination of an existing exclusive distribution agreement with Meritor it has acquired full distribution rights for its complete aftermarket product portfolio — including WABCO-branded ABS technologies, stability control, advanced driver assistance systems (ADAS), air systems and other replacement products.
As a result of the agreement, and for the first time in company history, WABCO says its entire North American aftermarket product line, as well as all related sales, distribution, customer service and technical support, will be provided directly by WABCO in North America.
"As a single point of contact for this expanded platform, we look forward to providing our industry-leading commercial vehicle technologies through a growing network of authorized WABCO distributors and service providers throughout the North American market," says Jon Morrison, president, WABCO Americas. "We will use this platform to deliver an enhanced customer experience for OE service providers, aftermarket parts distributors and fleets seeking to maximize uptime and reduce cost-per-mile for each asset at every stage of its ownership service lifecycle."
WABCO's portfolio of aftermarket lifecycle solutions, including WABCO original parts, remanufactured solutions and ProVia quality aftermarket products currently distributed by Meritor, include electronic stability control systems and components; hydraulic and pneumatic tractor and trailer anti-lock braking system components; WABCO OnGuard and OnLane ADAS systems; electronically controlled air suspension systems and parts; air dryers and cartridges, including System Saver and ProVia series; air compressors; and other items.
The company says it expects to begin directly distributing these products to OE service providers and aftermarket distributors in March 2020.
In addition to the products currently distributed by Meritor, WABCO adds it also offers an extensive range of replacement components and repair kits for air disc brakes, brake chambers, automatic slack adjusters, OnSide blind spot detection systems, automated manual transmissions, aerodynamic solutions, MICO hydraulic components and brake systems.
WABCO also further supports customers via extensive sales and technical training, advanced diagnostic solutions, technical services and parts ordering support provided through the WABCO Customer Care Center in Auburn Hills, Mich.
WABCO says additional details on its growing aftermarket product portfolio and planned service enhancements for its North America customers will be previewed next week at Heavy Duty Aftermarket Week (HDAW).