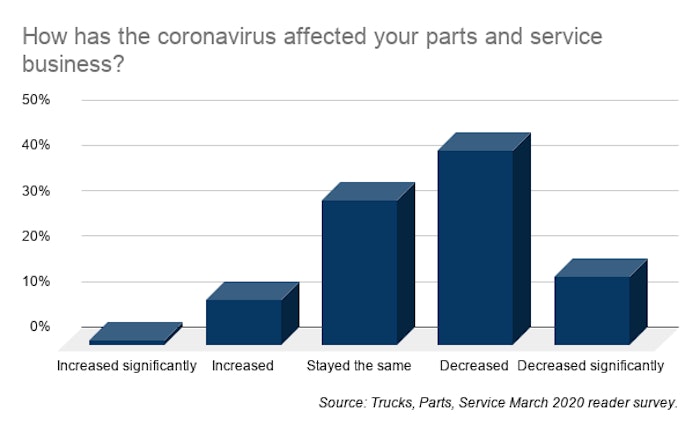 On March 11, the World Health Organization officially declared COVID-19 a global pandemic. Sports ended later that same day, as the novel coronavirus evolved from a growing news story to a life-changing event.
In the weeks since, nearly every business on earth has been disrupted. More than 6.6 million Americans filed for unemployment benefits in the week ending March 28, an all-time record and double the number of workers who applied for the insurance the previous week. Canada's total wasn't quite as high, 1.55 million applications between March 16-25, but still a substantial number considering the nation's overall population of 37 million.

Clickhere to view our full coverage of the coronavirus' impact on the trucking industry from the leading industry publications of Commercial Carrier Journal, Overdrive, Truckers News and Trucks, Parts, Service.
If that wasn't damaging enough, the United States recently shot past Italy and then China as the nation with the most confirmed coronavirus cases on earth — more than 243,000 at publication of this article — and more than 5,900 deaths.
Despite its essential status, trucking has not been immune to the pandemic and its economic impact.
According to a number of Randall-Reilly surveys completed earlier this week, the devastating effects of COVID-19 and coronavirus are already crushing all corners of the industry.
More than 180 dealer and aftermarket professionals responded to the first Trucks, Parts, Service weekly survey regarding current business conditions in the two channels. The data was as bleak as one may expect.
Starting in the aftermarket, 58 percent of survey responders said their parts and service business has contracted since coronavirus became national news. That breakdown was nearly equal amongst independent businesses (57 percent) and dealer parts and service operations (60 percent). Further segmentation of those two categories indicates service sales have fared slightly better than parts — parts-only sales were down for 62 percent of responders — though sales in both segments had decreased for at least half of responders.
Truck and trailer sales wasn't any better. New and used truck business declined for 62 and 57 percent of dealers, respectively, while new and used trailer sales fell for 47 and 42 percent of responders.
"Everything has gone sideways in all respects," said one responder; another added "my business earnings have significantly fallen."
The sudden and drastic cratering has forced dealers, distributors and service shops to adjust their business on the fly. More than a quarter of TPS survey responders (26 percent) said they have been forced to decrease their workforce in the last month while not a single responder had added employees. Most businesses (85 percent) have ramped up their cleaning and daily maintenance efforts and a substantial have found ways to implement work from home policies (43 percent) for some workers.
The introduction of curbside pickup and contactless customer interaction also is gaining popularity in the parts and service space, as 26 percent of responders admitted to introducing such processes in their operations due to necessity — "the state has banned in-person sales," said one responder — and safety.
If there's good news to be found at this time, responders say customers are understanding and helpful. Everyone is facing the challenges of the pandemic together.
Noted one responder, "We have a customer with a large human resources department and they shared their COVID-19 policies and procedures with us. We used those and modified them for our own use. This was helpful so we didn't have to reinvent the wheel."
But cooperation alone won't stimulate business and, on that front, TPS responders are pessimistic.
Asked to rate their business last week on a scale of 1 to 10, with 1 being the worst week ever and 10 being the best, 9 percent of responders claimed last week was the worst they'd ever seen. An overwhelming majority (72 percent) ranked the week as a 5 or worse with the average across all responders of 4.68.
"We have been lucky the phone has been ringing and some work is coming in," said one responder. "[It's] not what it was, however something is better than nothing."
The numbers were similar when asked to project how business conditions may change next week, with 5 percent of responders bracing for the worst and 83 percent expecting the week to score a 5 or below.
Breaking business down by segment doesn't make sentiment any better. When asked about parts and service sales, a majority (54 percent) of survey responders said they expect a sales decrease and 16 percent expect a "significant decrease." Only 7 percent of responders anticipated an uptick in business. Party-only data was similar, with a 7 percent of responders expecting an uptick and a combined 66 percent expect a decrease or significant decrease.
In the dealer space, 56 percent of responders are bracing for a continued downturn in new truck business and 53 percent for a continued slowdown in used truck sales. New and used trailer sales are expected to slip amongst 59 and 30 percent of responders.
Coupled with the horrific data trickling out of the freight market, it's clear rough roads are ahead for everyone in trucking.
To participate in this week's Trucks, Parts, Service survey regarding business conditions in the aftermarket and dealer channels due to the COVID-19 coronavirus pandemic, please CLICK HERE.