As the COVID-19 coronavirus pandemic continues to upend daily life across North America, more and more states are issuing temporary orders to keep residents home and as many businesses as possible closed.
Here in Illinois, we have been under a Stay At Home order for nearly a week and are optimistically hoping for a return to normal on April 7. I doubt that's going to happen but who knows. As a full-time work from home employee my workday hasn't changed much, but I know on that note I'm in the minority. Over the last two weeks just about everything else has changed.
The restaurants are the first thing you notice. That's what you see on the television and hear in the news media. Restaurants have been closed to dine-in customers for probably two weeks now — we've reached the point where days run together and it feels like Tuesday all the time — but most are still open for carryout and delivery.

Clickhere to view our full coverage of the coronavirus' impact on the trucking industry from the leading industry publications of Commercial Carrier Journal, Overdrive, Truckers News and Trucks, Parts, Service.
Other businesses have closed too. Department stores, home furnishing stores, clothing stores, sporting goods. All closed. Hardware stores are mostly open but hours have been slashed. Any office worker that can work from home is doing so, and those who cannot do that full time (payroll associates, IT workers, etc.) are under strict guidance to enter their offices as little as possible and maintain a safe distance from coworkers when there.
As for trucking? It's basically business as usual, or as close to business as usual as possible considering the circumstances.
At Action Trucks in suburban Chicago, Vice President Nick Seidel says his company's three stores closed early last Saturday so associates could prepare for Illinois' Stay At Home order and returned to regular hours Monday. Seidel says Action has implemented several temporary operational changes to better assist its customers during this difficult time but hasn't otherwise been forced to make major changes. Parts are still being stocked, sold and delivered every day, he says.
Action Truck Parts is able to remain open and operating at close to normal levels because parts and service operations are considered essential operations under Illinois' executive order.
For those in states or communities considering similar actions, Stay At Home and Shelter in Place orders ramp up the social distancing guidelines already being practiced nationwide. But while those guidelines are just that, non-enforceable recommendations, Stay At Home and Shelter in Place orders are binding restrictions. Businesses that are not considered essential are required to shut down, and large gatherings can be dispersed by law enforcement.
The good news — if there can be good news during a time like this — is a lot of businesses, including ours, actually fall under the essential exemption. The big four here and in other states like New York and California are food services (grocery stores, food banks, etc.) pharmacies, medical services and gas stations. In Europe, where several nations have followed Italy's lead and entered lockdowns, those are the only businesses still open. But that's not the case here. Residents can still go for walks and exercise outside and travel freely on our roadways.
The list of other essential businesses is surprisingly long. (You can find it here, if interested.) The essential business exemption that's most important for our industry is the transportation exemption. Commercial carriers are still allowed to haul freight critical to our supply chain and their parts and service providers are able to remain open to service them. Auto dealers in the state also are allowed to continue selling new units but only "for individuals who need to buy a car for essential travel." The NADA/ATD have requested more guidance from the federal government regarding this exemption.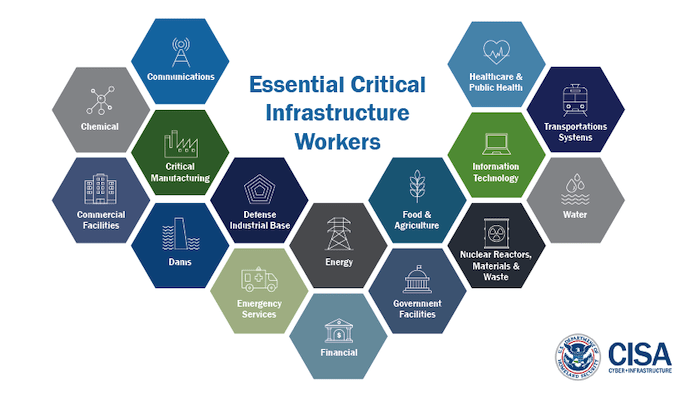 Additionally, while the nation as a whole has not issued any lockdown or sheltering restrictions, guidelines put forth by the Cybersecurity & Infrastructure Security Agency (CISA) for states to use in developing their own COVID-19 guidelines lists transportation and logistics as an essential service, with "maintenance and repair technicians, warehouse workers, truck stops" and "automotive repair and maintenance facilities" as critical workers and businesses that should remain open for the good of the country.
"Functioning critical infrastructure is imperative during the response to the COVID-19 emergency for both public health and safety as well as community well-being. Certain critical infrastructure industries have a special responsibility in these times to continue operations," CISA states in its guidelines.
Obviously nothing that's happening right now due to COVID-19 is a good thing and I think all of us are in agreement that the sooner we can bring our society back to normal, the better.
But, in the meantime, this is our reality. So at least it's good to see that our federal and state governments view our industry as essential as we all know it is, and are allowing us to keep the country moving.