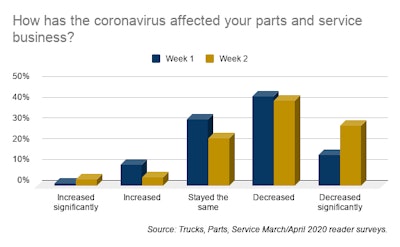 The medium- and heavy-duty truck parts and service aftermarket and dealer channels continue to be hammered by the global COVID-19 coronavirus pandemic, according to results from the second Trucks, Parts, Service weekly survey regarding current business conditions that was completed Wednesday.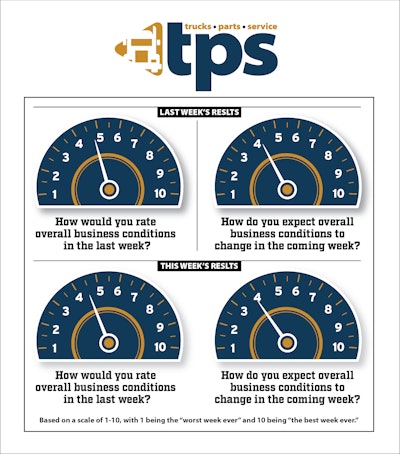 After 58 percent of responders copped to slagging parts and service sales in our initial survey last week, that number leaped to 70 percent this week, as 41 percent of responders saw their sales decrease and 29 percent saw sales decrease significantly. Nearly a quarter (23 percent) felt their sales remain the same despite the pandemic.
A deeper dive into that data shows independent shops are now being hit harder than their dealer counterparts, with 76 percent stating their business is down compared to just 50 percent in the dealer and OE supplier spaces. These numbers align with data released yesterday by MacKay & Company in its webinar with the Heavy Duty Manufacturers Association (HDMA) that reported independent aftermarket parts sales are down 17 percent while dealer parts sales have fallen by only 11 percent.
Regionally, the northern great plains and southern states seem to be withstanding the pandemic the best thus far — with at least a third of responders in each region reporting parts and service sales are steady or have increased. Conversely, the New England and Middle Atlantic states appear hardest hit, with all northeastern responders and 90 percent of Mid-Atlantic responders stating business is down.
Equipment sales also continue to crater in the wake of COVID-19.
Two thirds of dealer responders to this week's TPS survey said their new truck business is now down due to coronavirus, a slight increase over 62 percent last week. Used truck sales are proving to be slightly more stable. After 57 percent of responders noted that sector of their business was down last week, that number shifted upward to just 51 percent this week.
The trailer market hasn't proven any better. Not a single responder to this week's TPS survey reported their new or used trailer business has grown since the onset of the pandemic. Each data point seems to confirm other information available in the equipment markets.
Industry optimism seemed to trend down this week as well. On the question of ranking this week on a scale of 1 to 10 (with 1 being the worst week ever and 10 being the best), TPS survey responders pegged the last week at a 4.43, a slight downtick from last week's 4.62 score. That only 67 percent of responders ranked the week as a 5 or below was a slight improvement over last week's total of 72 percent, but this week also not a single responder ranked the week as their best ever — 2 percent had done so last week.

Responder comments were expectedly bleak. In the parts and service space, where only 5 percent of responders expect business to improve in the next month, many are bracing for the worst and fearing for their businesses.
Business is "going to start getting worse. April will be the worst month," said one responder. Another added their business was already down 6 percent pre-coronavirus and is now down 16 percent. A third exclaimed, "I'm about to have to shut my doors. It's terrible. I'm losing everything I had."
More than a third of responders (34 percent) have already shed workers due to the pandemic, an 8 percent increase over last week and well in line with the nearly 17 million American workers who have lost their jobs in the last three weeks.
The crisis is "starting to feel like 2008 and 2009 all over again," said one responder.
Sentiment wasn't better in the equipment sales space, where only 3 percent of new truck dealers and 8 percent of used trailer dealers are anticipating any sales increases in the next month (all used truck and new trailer dealers are bracing for extended sales slumps).
Asked to predict their status of their businesses in the next week on the aforementioned 1 to 10 scale, responders averaged a 3.9 score — 3.86 for independent operations, 4.08 for dealers and 3.8 for OEMs and component suppliers. The great plains and southern states again showed the most relative optimism, all posting averages at 4 or above. Canada also scored a survey-best 4.43. The Mid-Atlantic (3.0), Pacific (3.3) and New England (3.4) states were the most pessimistic.
To participate in next week's Trucks, Parts, Service survey regarding business conditions in the aftermarket and dealer channels due to the COVID-19 coronavirus pandemic, please CLICK HERE.