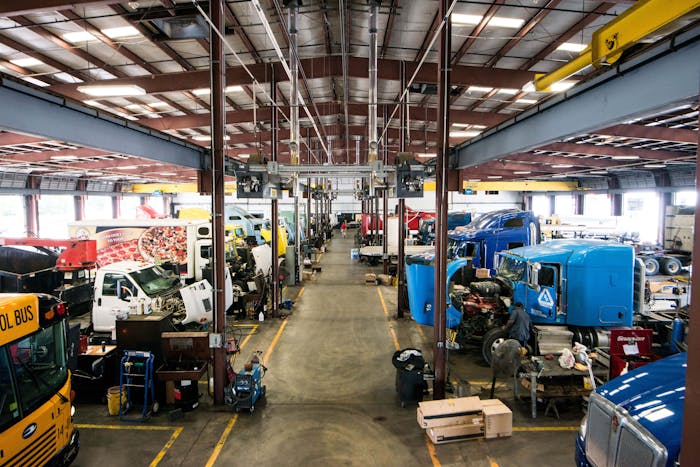 Though trucking has been deemed an essential service by the U.S. Cybersecurity & Infrastructure Security Agency (CISA) and both federal and state regulators are loosening restrictions to keep freight moving, keeping trucks on the road during the coronavirus pandemic remains a challenge.
With every truck on the highway racing against deadlines to move critical medical supplies, food and other household essentials, America's service provider network has never been under more duress to diagnose and repair equipment quickly and efficiently. The COVID-19 outbreak is forcing service shops across the country to update their workplace procedures and services every day to remain agile and capable to an increasingly reliant and frenzied customer base.

Clickhere to view our full coverage of the coronavirus' impact on the trucking industry from the leading industry publications of Commercial Carrier Journal, Overdrive, Truckers News and Trucks, Parts, Service.
For those on the front lines, each day is another mountain to climb, another series of unprecedented questions with no clear answers.
"One thing we've been telling our managers as we're going through this is 'I can't look up in the employee handbook what to do next because the answer is not in there,'" says John Sadler, president, Sadler Power Train. "We are doing our best for our employees and customers but we're still managing this one day at a time."
With four locations across Iowa, Sadler says his facilities are attempting to serve a number of markets and customer bases — each of which are reacting to the coronavirus differently and expecting different responses from their partners. Sadler and Dave Stastny, human resources manager, say the company's first actions once it realized the severity of the COVID-19 crisis was to stock its facilities with necessary cleaning supplies and demand all employees showing symptoms of any illness to stay home. Social distancing also was immediately implemented and accepted by company's staff, though the duo note executing the practice has been tough at its parts and service counters where employees are expected to directly interact with customers.
"We picked up some retractable barrier stanchions, like the ones you'd see at a concert, and have been putting them in our reception area and in front of our counters so we can keep some distance between everyone," Sadler says. "We don't want to lock our front doors to customers but we also don't want to put anyone at risk."
Inland Truck Parts (ITP) is taking similar precautions at its more than 30 locations across the center of the country, says President Greg Klein, with customers only allowed access to its front counter and deliveries and service customers being asked to call on arrival so employees can direct drivers as to where to park their equipment. Once parked, Klein says ITP employees are instructed to take necessary precautions to wipe down surfaces when entering a customer's vehicle to begin a repair and are expected to do the same after their work concludes.
Substantial cleaning efforts also are underway at TEC Equipment's 19 locations in the western U.S. The company first started developing a COVID-19 response plan in late February and issued its first directive to employees on March 5, says Strategic Initiatives Director Grant Small.
"We've evaluated every interaction with a customer's vehicle and ensured that we have disinfecting measures in place for surfaces that are interacted with," he says. "It's our goal to impart on our customers that not only was the utmost care taken with their repair, but also with protecting them and their livelihood."
Some businesses the service channel also are enhancing their service capabilities to ensure the trucks that are on the road stay on the road as much as possible.
Goodyear announced Thursday its company-owned Commercial Tire & Service Centers are now providing free Department of Transportation inspections to help customers maintain essential equipment. Bruckner Truck Sales and TA Truck Service told CCJ, sister publication to Trucks, Parts, Service, they are enhancing their mobile services to aid fleet customers dealing with technician absences at their terminals.
At the nation's largest dealer network, Rush Truck Center announced it is leveraging its RushCare Rapid Parts call centers and Parts Connect Service Connect platforms to communicate remotely with customers.
Klein says ITP hasn't altered its hours in the face of the pandemic but would consider doing so if service demands increase. Falling energy sector prices in the Great Plains were already forcing ITP customers to pull some trucks off the road and, as more non-essential services shut down, freight dynamics are likely to shift. Klein says he believes "if fleets start mothballing trucks, they'll park the trucks that need work first," though there's no guarantee those trucks will make it into the service channel.
Small says TEC Equipment's service bays remain full but customer demographics are changing.
"We've seen an increase with our customers directly or indirectly related to any of the critical infrastructure sectors," he says. "Their capacity has been understandably tapped, and we've been fortunate to be able to provide options for them to add to or maintain their fleets."
A boost in spot market volume masked a troubling decrease in overall freight in the early days of the pandemic, and many in the trucking industry expect volumes fall the longer the COVID-19 crisis lasts. Small says TEC Equipment is working to remain in close contact with its customers to understand any impacts to their operations.
"Our customers appreciate the efforts that we've taken and understand that our measures are with their best interests in mind. The more we protect them, the longer they can provide for their families and the more that our employees are protected, the better we can serve our customer's needs during this season," he says.