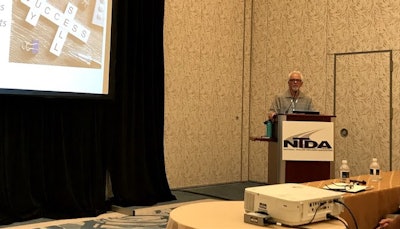 When it comes right down to it, increasing sales of any product relies on customer engagement.
Dave Durand says that was true when he entered the trailer market many years ago and it's still true now. Though he retired from Great Dane Trailers in April, Durand says engagement is one rule of sales that will never go away.
Speaking Wednesday at the 2019 National Trailer Dealers Association (NTDA) Annual Convention Wednesday in Palm Beach, Fla., Durand highlighted engagement in an effort to convey the importance and necessity for trailer dealers (and really all businesses) to invest in online resources and e-commerce.
Durand says the trailer industry has spent decades focusing on face-to-face, direct interaction with customers to build relationships and move equipment. He says that strategy still works and shouldn't be forgotten, but it's no longer the only way to reach customers — nor is it the only way customers want to be reached.
He echoes a MacKay & Company Founder Stu MacKay's longtime sales truth, "Customers will always determine how they will interact with you."
And on that note, Durand says there's plenty of data out there that shows they now want to interact online.
He says e-commerce accounted for $517 billion in retail sales in the United States last year, more than 14 percent of total retail sales. For those who view that latter number as small, Durand provides context. He says the e-commerce market was just 6.4 percent of retail sales in 2010 and has grown by 12 to 16 percent each year for a decade. Research indicates e-commerce will likely exceed 40 percent of retail sales by 2040, meaning the rate of growth for online purchases is likely to increase, not slow.
Durand says that means every day a trailer dealer or parts distributor puts off investing in e-commerce it just falls further behind the new normal.
But Durand also is quick to suggest that trailer dealers should not view entering the e-commerce space as challenging Amazon or other major retailers. He says a successful e-commerce site in the trailer business is about creating another touchpoint for existing customers.
An e-commerce portal allows customers to continue buying parts from you even when you're at home relaxing on a Sunday afternoon. An online inventory of new and used equipment — stocked with as much product information as possible, Durand adds — lets them complete the first steps in their buyer's journey without any assistance from your team. That not only frees up your associates to deal with more pressing business, but also ensures when customers do reach out that they are informed and ready to take action, increasing the likelihood and speed toward a close.
E-commerce "greatly enhances an entire dealership's sales effort," Durand says.
But how does one do it? Durand says some dealer management systems provide integration with parts and equipment sales resources and says other new tools are entering the truck and trailer market to make e-commerce easier for dealers. He also notes that OEMs and component suppliers that are willing to house online commerce portals for their dealers, or at least provide product information that can be easily linked to an authorized dealer's site, make e-commerce easier for everyone in the channel.
"Dealers need access to your information and data" to better sell your products, Durand says.