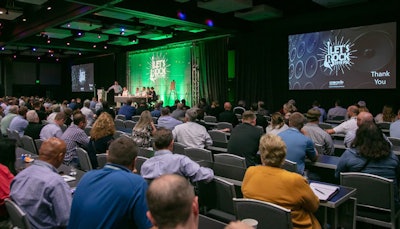 The good times are still rolling at Procede Software.
At least that was the mood exiting the company's heavily lauded Procede Software User Conference (PSC) late last month at the Hard Rock Hotel in San Diego.
With a record 325 attendees, Procede Software CEO Larry Kettler says this year's PSC built on an especially productive 2018 user conference. Kettler says the company introduced a number of new products and services at September's event that were teased out last year, while also surprising their user guests with other new products that will make their work back in their businesses even easier.
"I think when you're passionate about something and you know there are enhancements that could make what you do easier or more efficient, that's exciting," Kettler says. "We delivered those enhancements at the conference and also provided more features that were really well received [by users]."
In addition to user representatives, Kettler says Procede also welcomed OEM representatives and certified and alliance partners to this year's event. He says several of the OEM attendees held network meetings with their dealers ahead of the formal opening of the two-day conference, while department-specific breakout sessions, informative keynote presentations, an open discussion in which users could pose questions to Kettler and CTO Robert Stockfleth, a sneak peek of Excede Analytics and Pit Stop Expo topped the list of activities during the event.
Kettler also was thrilled to see so many new customers and prospects attend the event. He says he welcomed each individually and encouraged them to make the most of the action-packed event. Kettler says the PSC is designed to be informative and engaging, but it's also a lot of fun, and he says exit surveys show first-time and long-time attendees all shared that experience.
"It seems like we continue to hit the right note," he says. "It can be so hard to find that right combination of events that really resonates with customers and provides them with incredible value, especially at a user conference."
Kettler adds the 2019 PSC also continued a longstanding tradition by selling out for the fourth year in a row — this year only two weeks after opening registration. Looking ahead, he acknowledges the company has set a high bar for future events but is optimistic it can maintain its performance.
He says the PSC is successful because the business never takes its attention away from its users. The entire event is built with their satisfaction and approval in mind. Kettler says that is what has made it great in the past and that is what will make it even better in the future.
"We are more committed than ever to the industry and to delivering more to our customers," he says.