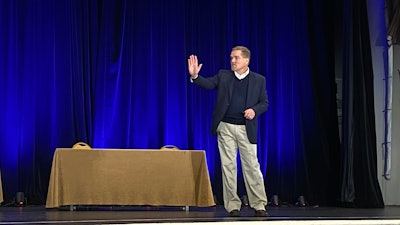 Next year is shaping up to be another good one for used truck dealers. Prices aren't going to leap upward like they have this year, but ACT Research's Steve Tam says his research indicates price and inventory will climb again in 2022 before the next market correction.
Providing a market update Friday at the Used Truck Association (UTA) Annual Convention in Nashville, Tam says now is a good time to be in the used truck business.
"In our industry things have never been as good as they are right now," he says.
[RELATED: More from the UTA Convention: Valuation experts discuss future market expectations]
Tam says ACT Research's analysis of the used truck market shows the industry's inventory crunch — which he says hopefully peaked in September and October — may start to let up in final weeks of the year. He says giving dealers more trucks to move would help support a fleet community that is desperate for power units and drivers to run them. Tam says freight rates are expected to grow through the holiday season and while they may trend down in January, he expects that slip to be mild.
That means the outlook for pricing remains solid. ACT Research data indicates used truck pricing is up 36 percent to date and could reach 40 percent by the end of the year. Next year won't approach that number — the unique circumstances that created this year's boom won't be duplicated — but steady freight levels and a normalizing economy will keep used truck demand high as OEMs continue to sort out their supply chain issues. And Tam says those issues aren't going to be fixed quickly.
"[OEMs] will makes progress in addressing some of these supply chain challenges,"  he says, "[but] it's not like somebody is going to flip a switch and supply chain goes back to normal."
He adds, "We're going be working on this into 2023 quite honestly."
Tam says ACT Research is predicting used truck pricing to grow by 5 to 10 percent next year. He says price increases may temporarily halt in Q1 when freight demands lessen but will increase again as the year progress. The company's inventory prediction is similar, with the used market selling 265,000 units this year (after 250,000 in 2020) and 285,000 units in 2022.
[RELATED: More from the UTA Convention Emerging technology experts offer support for dealers accepting new equipment]
Tam says 2023 is shaping up to be the used market's next check-up, as that should be the point where new truck production returns to normal levels and used truck supply reaches or exceeds demand. He also cautions used dealers to prepare for a potentially large upswing in new truck production in middle section of this decade.
"We are forecasting the mother of all pre-buys from late-2024 through 2026 to avoid 2027 EPA standards," he says. "If we were to believe our own forecast, we could see a 400,000-truck build rate in 2026. Now I don't know if the OEMs are capable of building at that rate … We are forecasting around 380,000 trucks for 2026."