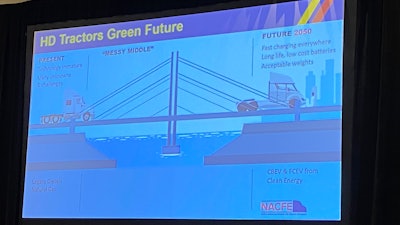 Dealers buying and selling used trucks encounter a lot of different vehicle technologies and safety systems. In most cases, these technologies hit the used truck market with hesitance and concern. Emerging technologies are costly. They require up-front investment, regular maintenance and driver education to be valuable. Many used trucks buyers don't want to deal with those requirements.
Technology experts understand that. But during a session Friday at the Used Truck Association (UTA) Annual Convention in Nashville, those experts also delivered a key message for used truck dealers about the future: these technologies aren't going away. In fact, in the decades ahead, the number of power generation and safety technologies coming for the truck industry not only are not going to regress, they're going to explode. Advanced technology is the future and used dealers need to be ready.
[RELATED: More from the UTA Annual Convention: OEM panel on changes, challenges coming for used truck market]
Bendix's Mike Gracey says emerging safety technologies hitting the Class 8 market shouldn't be feared. If anything, they should be highlighted. He says Bendix's Wingman Fusion and Wingman Advanced collision mitigation systems can be used as a value add for used truck dealers when working with customers who prioritize driver safety. He says these systems are now standard on most new production lines and cannot be removed — and don't try unless you want to risk a lawsuit, Gracey says — but they can be easily adopted by drivers. He says these systems exist not to replace the driver but "to help the driver."
And the safety benefits provided should not be overlooked. Gracey says trucks running air disc brakes with collision mitigation technology can stop more than a second faster than a truck running drum brakes at 50 miles per hour after 20 braking events. Gracey says a second might not sound like much, but he says think about what that means for a driver who has been stuck in a stop-and-go traffic situation all day. He says benefits like this should be enticing any smart used truck customer.
Gracey was followed Friday by NACFE's Dave Schaller, who provided a deep dive on alternative fuels, electric vehicles (EV)and the evolution of power generation in the trucking industry. Schaller says one good thing for used truck dealers when it comes to a non-diesel future is the adoption curve. He says NACFE has never seen a new technology go from 0 to 100 percent adoption in less than a decade and, on the topic of EVs in particular, he says adoption for the Class 8 market will have to take time.
One reason is infrastructure. America needs to add thousands and thousands of charging stations to support EVs on a large scale. There's also the matter of duty cycle. Trucking is still identifying the right use cases for electric vehicles. Schaller says thus far the market is adoption has started "in the warehouse," with forklifts, skid steers and terminal trucks being the first equipment to rely on electric power. He says medium-duty delivery appears to be the next segment where EV and alternative powers will grow, followed by regional haul and, eventually, long haul.
[RELATED: Dealers could be expected to invest six figures to support electric trucks]
But Schaller says EV adoption won't hit all segments of trucking, and some used truck dealers will deal with fewer EVs than others. He says mountainous regions are likely to rely on diesel longer than urban areas and California, as will fleets in severe-duty applications or without access to EV charging. So used truck dealers should sweat EV sales yet. Schaller says it is going to take "two to three decades" before these trucks hit the market in huge numbers.
"We don't need to have a full power grid in three to five years," he says. "Even if we produced 100 percent electric trucks next year, it would still take a decade for us to transition" to electric vehicles.