In today's white-hot used truck market, it doesn't take much marketing to make a sale. But just because sales are good doesn't mean used truck dealers should neglect or overlook good marketing strategies.
During a presentation Thursday at the Used Truck Association (UTA) Annual Convention in Nashville, Commercial Truck Trader's Charles Bowles detailed several essential digital marketing tactics used truck dealers should always prioritize to maximize the sales potential of their used truck inventory. Bowles told the audience if they're quickly selling every truck they acquire today that's great. But if they market well, he says they could sell those trucks even faster and for higher margins.
[RELATED: Randall-Reilly disrupts used marketplace landscape with Equipment Experts]
Bowles first digital tip was an obvious one. If a customer contacts you online, you need to respond. Bowles cites a recent study that indicates 50 percent of customer inquiries to motorcycle dealer websites go unanswered. He says the data is similar for some used truck dealers and that cannot happen. Commercial Truck Trader research indicates more than 90 percent of used truck buyers know which dealer they want to buy from when they first attempt contact. A dealer who fails to respond to such an inquiry, especially today, is almost assuredly missing out on connecting with a strong prospective customer.
Other vital digital tools for used truck dealers to leverage are retargeting and lead enrichment tools. Bowles defines retargeting as the ads for products that "follow you around online" even after you leave the website where they are sold. Bowles says these have become a primary online marketing tool in all consumer markets and he says the used truck market is no different. If a customer comes to your site and evaluates your inventory, you can feed those trucks back to him with digital marketing for a month after he exits your page. "It's an amazing form of extending the frequency of your message," he says.
[RELATED: Making the most of a booming used truck market]
Lead enrichment tools work differently. At Commercial Truck Trader, Bowles says these tools are known as buyer insights, but he says other online listing sites offer similar resources. A lead enrichment report is created through customer engagement on a listing site. Bowles gives the example of a customer that comes to a dealer website, searches product keywords and then looks at four or five trucks. He says reports can be created that will compile that buyer's activity and any personal information they provided to the website for a salesperson to use. Bowles says dealer sales representatives can then use that information to initiate a conversation with the customer and answer any other questions they may have. Lead enrichment "give you an idea of how they channeled down the decision tree" on your site, he says.
Finally, there's the issue of listing development. Bowles says today's used truck dealers understand the importance of adding vehicle information to their used truck listings, but they sometimes fail to prioritize that information properly.
[RELATED: How to use online marketing in used truck sales]
He gives the PAID acronym as a helpful reminder: Price, Appearance, Images, Descriptions. On price, Bowles references those 90 percent of customers who know who they want to buy from before they call. He says if you're not pricing your inventory, most customers are probably not going to call you. People want to know where "the conversation is going to start," he says. On appearance, Bowles says where you appear in Google search results can never be overlooked. Google indexes the first 300 characters, not words, on a webpage when performing a search. He says that means dealers who haven't included relevant information about a truck at the absolute top of a listing may be overlooked by the search engine.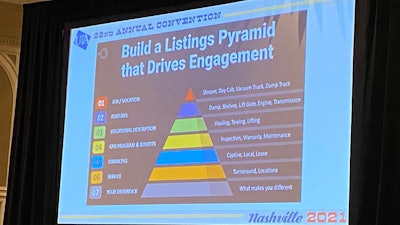 Customers also regularly overlook trucks without images too (or do in regular market conditions). Bowles says a stock image of a truck is better than nothing, but the best way to pull online users into your listings and convert them from prospects to engaged customers is with good images of your trucks and their features. Description helps here too. Going back to appearance, Bowles says dealers need to put the right words in the right order. Customers don't search for a 2019 Peterbilt or a 2018 Cascadia, he says, they search for key application terms like "dump truck near me" or "sleeper cab, Houston." Bowles says dealers that frame their listings with that information first are more likely to attract and keep customers' attention.