Dealers say classified ads and listings in trader publications are still the tried and true way to market used trucks, with 87 percent of dealer respondents to a recent Successful Dealer survey citing those tactics as somewhat or very effective. But today's digital world presents many more options for reaching prospects, offering sophisticated ways to target based on location, brand affinity, likely trade cycle and even web-surfing habits.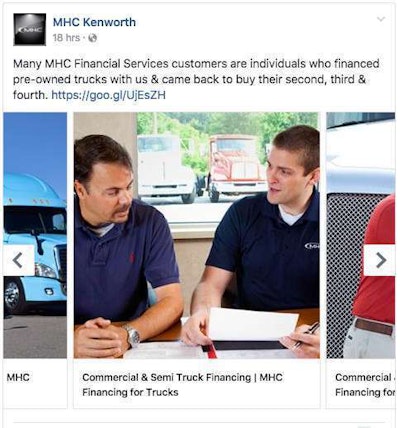 MHC Kenworth tries varied approaches with posts to its Facebook page.
The key to success in using social media and other digital platforms to help sell used trucks is to know exactly what you want to accomplish, says Aaron Craddock, director of performance marketing for Randall-Reilly, Successful Dealer's parent company.
"Determine your goal, target and win for an online marketing campaign," he advises. For example, your goal might be to sell 20 used trucks by mid-year. Your target might be owner-operators within a 100-mile radius of your dealership. Your win might be 10 inbound calls per day to your dealership inquiring about specific trucks.
Once you have a plan in place, the next step is to determine which platforms or tactics will help you achieve your goals — within your budget. Here are the most effective ways to reach used truck prospects online:
SOCIAL MEDIA
Cited as somewhat or very effective by 67 percent of survey respondents to the Successful Dealer survey, social media is a great way to connect with prospects.
Facebook is the most-used social media in trucking, frequented by 51 percent of fleet executives and 52 percent of owner-operators, according to research by Successful Dealer sister brands CCJ and Overdrive. In addition, three out of four buyers rely on social media when it comes to making a purchasing decision, according to Sprout Social, a social media software firm.
"Social media is your close sphere of influence," says Lindsey Wreggelsworth, with Commercial Web Services. "There's a trust factor at work, and you can generate leads and business from it if you leverage it properly against a goal."
Facebook has tons of data about the people who use it, information you can use to target prospects based on their profiles.
"Social media is your close sphere of influence. There's a trust factor at work, and you can generate leads and business from it if you leverage it properly against a goal.
— Lindsey Wreggelsworth, Commercial Web Services
Users who click on your dealership's Facebook ad can redirect to a form that auto-completes using their Facebook profile. If they complete the rest of the form, indicating the types of trucks they are interested in, you get a solid lead to follow.
"Paid Facebook ads can generate a fairly large lead volume," Craddock says, "and you can ensure you are targeting the correct people who can buy your trucks through layering CRM (customer relationship management) data, interests, and other behavioral data."
Craddock also recommends using Carousel ads, which can include up to 10 images to promote your trucks. "These perform better than standard image ads," he says.
PAID SEARCH
This option is available through Google and other search engines, allowing you to advertise your business – or your used truck inventory – through keywords. These are the terms potential buyers would likely use to search for used trucks, such as "used Class 8 trucks," "2013 Freightliner Cascadia," etc. When people enter the keywords you've paid the search engine to promote on your behalf, your results come up in the first few search results, marked as advertising. Fifty-eight percent of respondents to the Successful Dealer survey said paid search is very or somewhat effective in generating leads for selling used trucks.
When prospects click on your ad, they are redirected to a landing page where they can browse your inventory of used trucks. By asking them to provide a phone number to access your inventory, you've received a lead.
Keyword marketing is a great option for dealers because search engines receive huge amounts of traffic related to new and used truck shopping, says Justin Seibert, founder and president of Direct Online Marketing. Dealers, however, must keep their websites updated as often as daily to reflect changing inventory.
"Have every truck in your inventory on your website," he says.

RETARGETING
Seibert also stresses the value of retargeting, sometimes called remarketing. This works by placing a piece of code (or cookie) when a potential customer visits your website.
As visitors browse other websites around the internet, ads promoting your used truck inventory (or even the specific truck they may have clicked on your site) will follow them. Constant retargeting can be annoying, but occasional advertisements will provide customers just enough information to lead to sales, Seibert says.
Experts say a combination of tactics is the most effective way to market your used trucks online. You'll need to focus your efforts on generating the kinds and volume of leads that work best for your business. Paid search, for example, generates inbound calls, while Facebook ads generate short form leads (name, email, phone), Craddock says.
"Given a small budget and if the goal is both forms and calls, I would recommend starting with paid search (call only) and Facebook lead ads," he says, keeping in mind that costs per lead can range from $10 to $50. If you use an online marketing firm, be sure to be clear about your goals and how much you are willing to spend to achieve them.
---

This is part of a series of stories from Successful Dealer on the best practices for moving used trucks. To download the entire guide, click here.