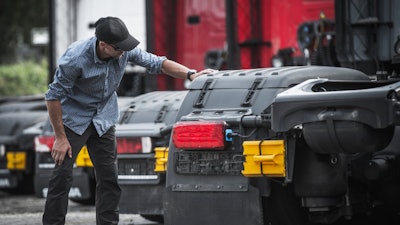 The data indicates sale prices on used trucks have stabilized; however, market experts says it's still the halcyon days for used truck sales as used heavy vehicles remain in high demand.
Yet it hasn't been so easy for used truck departments to strike while the iron is red hot. In the face of a rampant parts shortage throughout the trucking industry caused by the ongoing COVID-19 pandemic, dealers have had to develop strategies to fully capitalize on the unprecedented demand of used vehicles. Such methods include different ways to source used vehicles to meet customer demand, getting trucks ready for sale and ensuring dealers don't take a bath on the inventory they have left when the market begins to correct.
Gary Conleay, vice president of used trucks, Peach State Truck Centers, sums it up well: "It's just a crazy market we're in today."
Strategies to address challenges
You can't stock what you don't have. New truck deliveries have dramatically slowed the flow of trade-ins to dealers' used lots because of the computer chip and parts shortage and customers are snapping up used trucks priced well above the norm, which means most dealers are wrestling with inventory issues.
A strategy Peach State Truck Centers employed was to re-focus on its digital efforts and by May 2021, "We really got busy looking for trucks in the digital marketplace," says Conleay.
Whereas a dealer's online presence is typically used to sell trucks, Peach State Truck Centers is using its digital platform to source trucks.
"We tried to figure out how we needed to diversify our inventory for what was going on out there. We had to respond to it quickly and on a large scale," says Rhonda Gauthreaux, vice president of marketing, Peach State Truck Centers.
"When it comes to lead gen, we've shifted our mindset to try to buy trucks," Gauthreaux says. "We have a digital campaign going on saying we would like to buy your used truck and asking our audience to contact us. We're trying to buy a lot of trucks from owner operators and small fleets."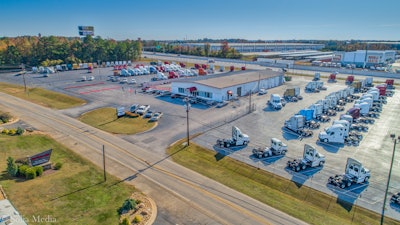 Conleay says business changed significantly in late 2020 early 2021 with the source of trucks drying up. While Peach State prefers to sell used Freightliners, the dealer had to get active in the auction marketplace, reaching out to brokers, wholesalers and fleets, and the dealer had to be willing to start looking for brands other than Freightliners, namely International, Kenworth, Peterbilt and Volvos.
"In the industry we're asking each other how long this is going to last, and we don't know, but we do know new trucks are going to remain at pretty low delivery levels for about as far out as we can see," Conleay says. "We think the supply of used trucks is going to remain tight … and the demand for used trucks is going to continue to be pretty strong because tonnage and freight remain strong."
Like Peach State Trucking, Hill International Trucks & Tri State Ford is relying on partners to keep up inventory.
"We are fortunate to have many contacts and we have been able to still have a good mix of used trucks to provide for our customers. New trucks have been very hard to come by but [sales of them] have been trickling in so trade-ins also have helped fill the void in the market," says Jeff Mundy, used truck manager.
The main strategy for Doggett Freightliner of South Texas and Arkansas is simply to source used inventory, along with the rest of the dealer industry.
"Right now, everyone is looking for inventory and it's very hard to come by," says Jeff Bowling, director of used trucks. Bowling adds Doggett is getting inventory through "relationships in the industry," but didn't want to elaborate.
"What we're following closer than anything is the demand portion of the business and we're still receiving lots of phone calls, lots of activity on units we have. It really hasn't decreased at all during the year," Bowling says.
"When that slows down, it will be a key indicator we need to stop and look if there's anything bigger going on. [For example,] if leads coming in are slowing down, is that because we're not advertising properly or is the market starting to turn? It will be an interesting year in 2022, so we're just trying to maximize each opportunity we have," he says.
The parts shortage and COVID-19 also are affecting used truck reconditioning times, new truck buyers converting to used and, of course, the prices dealers can command.
"We try to have a truck ready to sell inside of 10 days but right now with the quantity of trucks in the service department, we're probably closer to two weeks. We're seeing a little bit longer ready times but often that truck is sold before it's completely ready to go," Bowling says.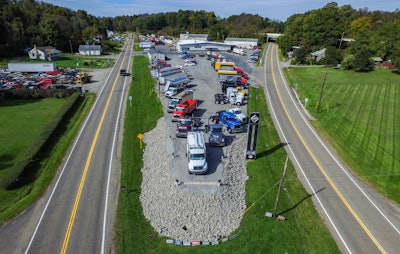 Hill International Trucks & Tri State Ford has been lucky its service and body shops haven't been as busy, says Mundy. That said, customers are snapping up inventory at a fast pace.
"We have been able to get our used trucks through the retail ready process very quickly. [However,] you can turn a good, clean trade to a second or third buyer before we can even get it written up for repairs in the shop," he says.
Reconditioning delays have proved to be an issue at Peach State.
"Our parts and service guys are really busy. I'm having to struggle to get my trucks in the shop because of all the public trucks being worked on. The other thing we're fighting against is a shortage of parts. We're having trucks that are sometimes waiting 30 to 45 days for some kind of [component], Conleay says.
Of course, the salve making up for all the hardships dealers are contending with is the price dealers can ask — and usually get — for the used trucks on their lots.
Conleay says Peach State Truck Centers was trying to meet the needs of various customers as used trucks became scarcer and asking prices rose. The dealer is trying to provide used trucks to those who typically buy new as well as those who still want a truck in that $45,000 to $50,000 range.
"In attempting to try to keep some trucks that fit that lower-end price point, we started buying older trucks with higher mileage. And our standards and reconditioning costs were just eating us up, so we kind of backed out of that," Conleay says. "So many people are walking in the door wanting to know if we have a $40,000 to $50,000 truck. You used to buy really good trucks for that much money. Today you're looking at a 750,000-to-800,000-mile truck that's in need of a lot of work."
Peach State Truck Centers also decided it needed to have trucks traditional new truck buyers could purchase to act as a bridge until they're able to get a new heavy vehicle.
"All the while we were seeing the values of trucks continue to grow. We've probably seen a 35-40 percent appreciation in truck values over the course of the last 12 months," Conleay says.
Bowling says, "We're definitely trying to maximize each sell but we're not holding onto it expecting the moon and the stars, so to speak. We want to maximize and capitalize, but not to the detriment of holding onto it for too long."
As for how long he expects higher used truck demand and accompanying prices to last, Bowling says it will be for the better part of next year if not all of 2022. He adds the supply of used trucks will get worse before it gets better.
By the numbers
While used truck dealers shared their business' experiences, industry data and analyst commentary detail the good, the bad and the out of stock.
"In terms of our macro view of the used truck market, right now superheated freight rates are motivating truckers to upgrade to the newest iron available. With new truck supply constrained, pricing for average- to low-mileage used trucks is at historic highs. We don't see this dynamic changing much into 2022, assuming economic conditions remain stable," says Chris Visser, J.D. Power senior analyst and product manager, Commercial Vehicles.
In the first seven months of 2021, late-model trucks were 24.2 percent ahead of the same period of 2020, and 4.6 percent ahead of the same period of 2019. (See Figure 1).
In the face of renewed COVID-19 outbreaks, most economists predict strong economic conditions into 2022, so the demand side looks good. Supply is usually the predominant factor in used truck pricing, and as of this writing in mid-August, the microchip crisis and rolling shortages of other assorted parts show no signs of alleviating to any great extent, according to J.D. Power Valuation Services' Commercial Truck Guidelines Industry Review for August.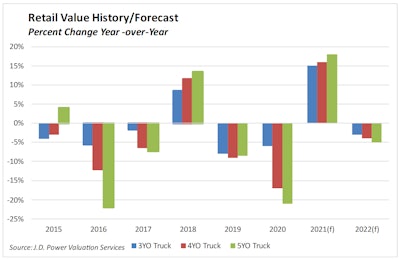 "New truck availability will remain constrained, limiting supply of trades. This situation has lasted longer than we predicted, and at this point we're not even sure there will be much improvement through the end of the year," the report states.
John Whitnell, independent consultant and formerly with KEA Advisors, sums up the last two years for the used truck market.
"The second half of 2020 was really very good for the used truck market but then the first half of 2021 things exploded," says Whitnell. "That's kind of run its course, but it's not necessarily a bad thing. Prices remain at historically very high levels (See Figure 3) but the euphoria, if you will, has worn off. That part of the cycle is over. Prices have stabilized but it's still a very good time to be in the used truck business."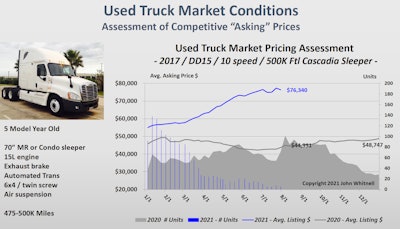 Last year KEA Advisors was looking at a 2016 trade with the exact same specs and miles and, year over year, comparing apples to apples, the asking price for this truck has increased more than $31,000.
"The actual retail take price probably also increased. The take ratios we've seen have tightened up so last year there was a willingness to negotiate a little bit more because the inventory shortage hadn't started to manifest itself yet. This year people aren't negotiating very much off their ask price," Whitnell says.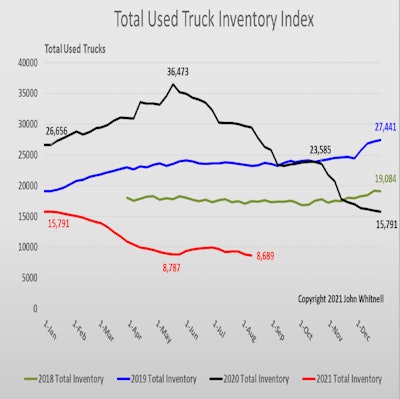 KEA says Figure 4 is intended to indicate two metrics. "No. 1, where is the index at and how does that data point compare with other points in time. The total index of 8,699 is the lowest it's ever been," Whitnell says. "This downward momentum in the inventory has plateaued over the last three or four months."
Keith Ely, managing shareholder, KEA Advisors, warns these days of low inventory availability and corresponding high take prices aren't going to last forever and dealers need to watch their inventories to ensure they don't have money stuck in trucks when the market normalizes. He adds as quickly as prices went up, they will come down.
"You'll have a large group of people not paying attention to the supply and they start bleeding [money] because they have X amount invested in a truck they should be able to sell in an appreciating market," but will have consequences in a depreciating market, Ely says.
"The message we deliver to our customers is you need to continue and improve how you manage inventory right now. Just because price appears to be appreciating or stabilizing as it is now, it doesn't mean you should get rid of good inventory practices," he says.
"You need to look at your inventory practices. As the OEs figure these constraints out and the pipeline opens up again, it's going to turn values [on used trucks] downward. You don't want to get stuck with the used truck."