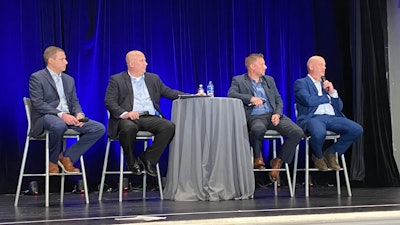 Thursday's educational sessions at the Used Truck Association (UTA) Annual Convention in Nashville closed with a wide-ranging OEM panel discussion.
Featuring Kenworth's Bo Johnson, Peterbilt's Jeremi Guditis, DTNA's Brian Daniels and Brock Frederick of International, the hour-long panel touched on how new truck build rates will continue to drive used truck demand, customer education, dealer cooperation and expectations for the industry's next big challenge.
Daniels says because the OEMs have effectively filled their order boards through 2022 they know the maximum number of trucks that could possibly be shifted into the used truck market in the months ahead. The only question is: will the OEMs be able to build every truck ordered?
[RELATED: Used Truck Association panel discusses market conditions]
No OEM panelist could answer that, but consensus was when production does return to pre-COVID levels, so too will used truck supply. Johnson says that does not necessarily mean the used market will collapse — "the market is going to bear what it can bear," he says — and if freight rates remain high demand could still outpace supply even if the latter rises. But Daniels also is quick to point out there are groups that have invested in the used market now because prices are so high that are not familiar with the market's cyclicality. He says once prices do begin to fall, there's no telling how those inexperienced investors will respond.
The OEM reps also touched on advanced technology and how quickly the secondary market has accepted new vehicle developments like automated manual transmissions, collision mitigation systems and other safety features. Johnson says he can remember a decade ago when he started buying used trucks his employer would factor in the cost of converting an AMT back to a manual because demand was so low.
That's not a problem anymore. Every OEM represented on stage Thursday said take rates for AMTs on their new trucks are close to (or exceed 90 percent) and the value the technology provides for fuel economy savings and driver recruitment and retention have effectively eliminated any pricing reductions in the secondary market.
Daniels says the story is similar with collision mitigation. He says some secondary customers are seeking out the equipment as opposed to avoiding it or asking to have it removed. Frederick says that's a good sign for future rounds of technology, including telematics and remote diagnostics. He says there was a time owner-operators feared these advancements as "Big Brother" tools to look over their shoulders. Now they recognize their advantages.
He gives the example of a trucker receiving a diagnostic trouble code (DTC) indicating a part is failing while driving through Nashville and that it has 500 miles of life remaining. He says today OEMs can use that data to coordinate with the nearest dealer who has the part available to schedule a repair and reduce the customer's downtime to an absolute minimum.
[RELATED: Used truck dealers can't abandon digital marketing basics despite hot market]
"That type of efficiency for fleets is really going to be effective," he says.
Guditis agrees and says that's why OEMs must continue to develop relationships with used truck dealer partners — franchised or independent. He says today's used truck customers require so much more information than ten or even five years ago to maximize the value of their purchases. OEMs that fail to acknowledge that and don't distribute product materials and training to points of sale to accommodate those needs will fall behind in the years ahead.