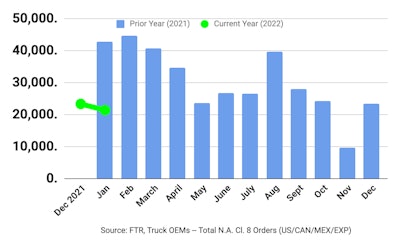 FTR Intelligence and ACT Research released preliminary January Class 8 truck order totals of 21,400 and 21,300 units, respectively, on Thursday.
Both firms attributed the totals — which were down from December — to the ongoing challenges in the supply chain impacting production levels.
"Constrained production capabilities and long backlogs continue to hamper new order activity," says Kenny Vieth, ACT Research president and senior analyst. "Order weakness continues to be primarily, if not entirely, due to supply-side shortages that continue to restrict production."
"There is still tremendous demand for new trucks," adds Don Ake, FTR vice president of commercial vehicles. "The order totals for the last 12 months, at 343,000 units, would equate to a robust production year. The orders are there but the OEMs continue to be limited in what they can produce due to shortages of semiconductors and other components."
Ake says OEMs are entering orders at the same rate as production, and backlogs have tracked in a narrow range for the last 10 months. "Normally, this would indicate a very stable market. In this case, it reflects a market frozen by a weak supply chain," he says.
Vieth agrees, noting order totals don't remotely tell the whole story of what's happening in the Class 8 space.
[RELATED: J.D. Power says 2021 retail used truck pricing highest 'in the modern era']
"As has been the case for months, we reiterate that with critical economic and industry demand drivers at, or near, record levels, industry strength should be measured by long backlog lead times, rather than tepid new order activity," he says.
FTR also notes in releasing January's order total (which was down 50 percent year over year), that OEMs are not entering all their 2022 commitments because they do not want to overbook due to the uncertain supply chain.
"The big negative to the January order volume is that it indicates the supply chain has not improved yet from the end of last year," Ake says. "OEMs are not confident they can get parts, so they limit the number of orders they enter. Order totals will rise as soon as supply chain conditions improve."
In the Class 8 market, with backlogs stretching through 2022 and still no clear visibility on the easing of the everything shortage, Vieth notes January's net order haul reflects "the ongoing conservative approach by OEMs looking to limit the risk of overbooking and underbuilding that plagued the industry in 2021."
ACT Research adds Classes 5-7 orders also fell to 16,500 units.