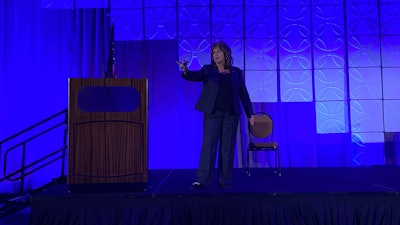 The independent aftermarket took a major step forward in its return to normalcy this week as HDA Truck Pride and its members and suppliers descended on Grapevine, Texas, for its 2021 Annual Meeting.
The event kicked off with a joyous welcoming reception Monday as friends and colleagues connected again for the first time in more than a year. The positive vibes continued Tuesday at the meeting's opening general session, where HDA Truck Pride President Tina Hubbard and her team congratulated the organization's membership for its impressive response to COVID-19 in 2020 and spectacular growth thus far in 2021. The last 16 months haven't been easy for anyone, but Hubbard said the HDA Truck Pride network should be proud of what it's done over the last two years and excited about what's to come.
And the group's numbers bear that out. Since holding its last annual meeting in April 2019, HDA Truck Pride's network has expanded by more than 100 locations. Some existing members have grown dramatically, while eight new member companies have also added 15 storefronts to the group. On a same-store-sales basis, group COO Bryan Funke says HDA Truck Pride members were down just 3.2 percent last year (well below the industry average) and are booming thus far in 2021, up nearly 14 percent year to date. Funke adds this year's strong totals aren't just due to a market correction, members also are up 9 percent year to date against the pre-COVID year of 2019.
Tuesday's general session also served as an essential and long-awaited organizational update for all attendees, as HDA Truck Pride's team updated members and suppliers on new tools and solutions available to support its membership. HDA Truck Pride has worked diligently throughout the pandemic to revolutionize the group's operational effectiveness, adding new suppliers and product lines, updating accounting services, increasing marketing initiatives, improving product data (to support distributor e-commerce) and more.
[RELATED: Supply chain woes hit salvage market with increased parts demand]
Hubbard says these improvements are vital. The last 16 months has proven business can change on a dime; any company that hopes to maintain its success in the years to come must be willing to adapt and evolve.
"If the last 16 months has taught us anything, it has taught us to think differently," Hubbard said. "Perhaps the pandemic has opened our eyes to new possibilities."
Other updates in Tuesday's meeting included an update from Marc Karon on the Commercial Vehicle Solutions Network's (CVSN) efforts fighting for the aftermarket's right to repair, a belated but welcome round of applause for Karon and Cook Brothers Truck Parts for awards won during the pandemic, and a brief market conditions update from the group's leadership team. Regarding the market in particular, the group confirmed the severity of the challenges in the supply and chain and freight markets, noting it is unlikely either issue will alleviate in the near future.