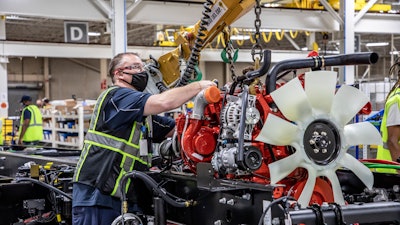 Despite falling Class 8 orders in May and trailer orders in April, commercial vehicle demand remains at record levels. Everyone wants new equipment, and every OEM is hungry to build as fast as possible.
But with global supply chain challenges still slowing production, FTR Vice President of Commercial Vehicles Don Ake said Thursday during a market outlook webinar that it is almost guaranteed that commercial vehicle OEMs will not be able to produce at a pace to meet demand at any point this year. He says FTR is optimistic that the supply chain could begin its path to normalizing in Q3 (a process that will take several months) and 2022 order boards, once opened, will immediately lead to order spikes. Yet with a backlog of 11 months in the Class 8 space and nearly 10 months for trailers, Ake says the trucking sector will be well into 2022 before supply is finally able to catch demand.
In the meantime, Ake says anyone building and selling equipment should be ready. It's going to be a seller's market for a while. "The market is desperate for trucks, and we can't get them," he says.
In the truck space, Ake was quick to point out Thursday's announcement that Class 8 truck orders fell 32 percent in May had nothing to do with fleet demand or freight volumes and everything to do with production delays. He says OEMs have little to no build slots left for this year so fleets that have not yet ordered are choosing to wait to place their orders until 2022 built slots become available.
[RELATED: Class 8 orders slow in May]
"If we were a cable news network, we'd be flashing 'Breaking News! Breaking News!' on the screen now" due to the May order drop, Ake says. "But we expected orders to be low and we expect them to keep falling until order boards open up … once they open up, you're going to see some very impressive order totals."
Ake says truck and trailer OEMs point to between 20 and 40 components that are experiencing late or partial deliveries due to ongoing supply chain challenges. Semiconductors have garnered the headlines, but most OEMs say those components are just one in a litany that are nearly impossible to acquire. And Ake says while there is growing hope that Q3 could be the start of a return to normalcy in the supply chain, he says OEMs and their supplier partners each acknowledge returning pre-COVID inventory levels is going to take many months. Ake says in July the supply chain "won't be operating well, but hopefully it will be operating better."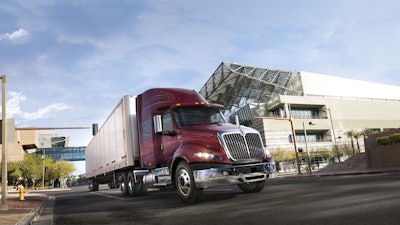 The good news is equipment demand is unlikely to wane despite slowed production.
FTR's Avery Vise, vice president, Trucking, says U.S. GDP was up 6.4 percent in Q1 and is expected to surpass 4 percent for each of the remaining quarters this year (Q2 looks particularly strong at 9.3 percent). Vise adds FTR is predicting freight volumes to rise by 8 percent for the year, with dry van pacing the market up 10 percent. He admits some of that year over year growth has already occurred thanks to April and May's dominance against 2020's COVID-impacted volumes, but also says volumes still appear capable of outpacing 2020's totals in the latter half of the year.
He says if there's a major concern in the fleet space, it's not loads, it's drivers.
"The supply of drivers has been very tight. Through April, employment in trucking is down 3 percent compared to February 2020," Vise says.
But with additional federal unemployment benefits ending over the next three months, Vise also notes more people should be re-entering the workforce this summer, which should help carriers' recruiting efforts.