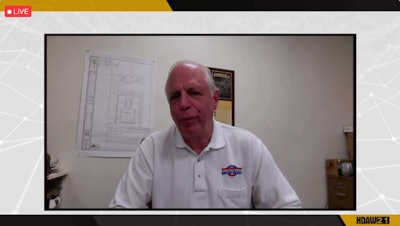 Marc Karon, president and CEO, Total Trucks Parts, was announced as the 15th inductee to the Heavy Duty Aftermarket Industry Hall of Fame during virtual Heavy Duty Aftermarket Week (HDAW) Tuesday.
Karon entered the trucking business in the 1970s as an engineer for Bendix. Based in Ohio, Karon earned two patents during his time with supplier before moving to Florida to open a distribution business in 1979. Headquartered in West Palm Beach, today Total Truck Parts has six locations across Florida and employees more than 100 people.
During his time leading Total Truck Parts, Karon helped the company to win the 2007 TPS Distributor of the Year award and has been instrumental in driving progress across the independent heavy-duty aftermarket.
He is an active member of the Commercial Vehicle Solutions Network (CVSN) and HDA Truck Pride, and his work with the former as chairman of the Commercial Vehicle Right to Repair Coalition was instrumental in the creation of the national Memorandum of Understanding for the heavy-duty aftermarket's right to repair movement.
In receiving his award Tuesday from longtime friend and former HDA Truck Pride CEO Don Reimondo, Karon was expectedly gracious. He thanked the HD Hall of Fame committee, family, friends and the team at Total Truck Parts.
He also referenced the core principles he has followed throughout his career that enabled him to achieve so much success. They were treating others with respect, that strong effort generates results, the importance of humility and listening and the idea that when you give yourself to a cause, the return always outweighs the effort.
He also quipped at one point that he wasn't sure if he deserved the award, joking that it has typically been awarded to people near the end of their career. Karon said "That is not me. I have way too much left to do."
He mentioned the continued push for access to technical information for the independent aftermarket as a top priority, as well as the development of industrywide training programs for independent service shop technicians and a foundation for aftermarket businesses and their employees who are impacted by devastating natural disasters (something particularly close to Karon's heart due to his Florida address).