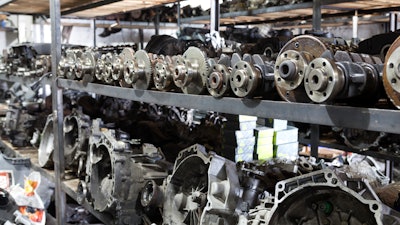 With production disruptions and component availability issues causing trouble throughout trucking's supply chain, vehicle owners are turning over every stone they can find looking for parts to keep their trucks on the road.
That's been good news for the salvage market, which over the last few months has started to receive an uptick in sales and customer inquiries of many common (and not so common) used and rebuilt aftermarket parts.
At River Valley Truck Parts, President Kyle Bruno says his team noticed an uptick in customer parts requests in January that has only increased in the subsequent months, with the last two being particularly active.
Bruno says his business stocks and sells thousands of parts numbers but does most of its business on engine, transmission and body and cab components. He says order requests for those popular components remain steady but have been overshadowed by a sudden and substantial increase for "oddball parts" and components River Valley has never stocked, such as A/C compressors and related parts, low-volume and unique engine components and random non-commercial vehicle parts.
"We got a call for a golf cart differential the other day," Bruno says. "I don't know why they would call us, but I guess it just shows how much trouble people are having finding parts."
The story is the same at Truck Component Services, a division of TLG Peterbilt, says Dalton Hord, parts manager.
"Many OE suppliers are facing long lead times and are unable to tell their customers when the parts will be available, leading customers directly to us," he says. Like River Valley Truck Parts, TCS also has noticed an increase in A/C lines and engine parts, and Holt notes engine and aftertreatment components with electronic sensors seem to be particularly tough for customers to acquire through conventional aftermarket channels.
"One particular part is a NOx sensor for a Cummins engine that is currently 10 weeks out," he says. "We recently were able to help one of our fellow stores by producing three of these NOx sensors in one day, getting three trucks back on the road much sooner than expected."
Yet not every customer call coming to salvage yards this year has been totally random. Even brake drum and wheel end component demand has increased for some salvage businesses due to extreme availability issues in the conventional aftermarket and reman channels.
The parts shortage has left salvage companies struggling as they try to identify components in demand and develop inventory ahead of more customer requests. Bruno says River Valley hasn't committed to adding any new categories yet, but he says he's open to it if customer demand dictates there's a specific line he needs to have. Adds Vander Haag's President John Vander Haag, "We are trying to predict what to focus on, but it seems to be widespread and difficult to identify a specific part type at this time."
And, unfortunately, parts availability is a challenge for salvage businesses too.
[RELATED: Supply constraints on 2021's production potential]
Bruno says the white-hot used truck market has nearly doubled the cost of some Class 8 models his business likes to acquire and disassemble, forcing the business to be more selective in its sourcing. "Trucks we used to buy for $1,500 to $2,500 are now $4,000 and $5,000," he says. "And it's not like the parts we're getting from them are going up at that same rate."
As such, improvisational sourcing is becoming increasingly common throughout the aftermarket as dealers and distributors look for any solution they can find to keep their customers' vehicle running, says ATD Chairman Steve Bassett, president, General Truck Sales.
Bassett says one of his locations recently took a component off a brand new truck on its lot to install into the engine of a transient customer who had broken down near his store. Bassett says his parts team exhausted every avenue it had to source the part but ultimately came up empty, necessitating the unorthodox move.
"You have to do whatever you can to get the customer back on the road," he says.