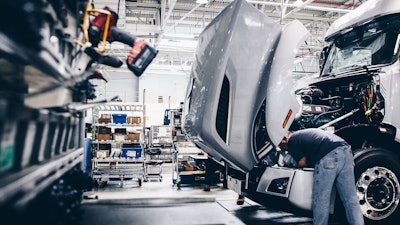 All industry attendees during Wednesday's Heavy Duty Manufacturers Association (HDMA) and MacKay & Company Pulse webinar said they anticipate their aftermarket parts sales business to grow this year. Nearly 90 percent predict the market to be up by at least 5 percent, with 15 percent saying they could see their aftermarket business growing by greater than 15 percent by year end.
Among dealers and distributors polled by MacKay & Company in April, dealers said their business was already up 8.1 percent year to date; distributors were up 7.2 percent. John Blodgett, MacKay & Company's vice president, sales and marketing, says his company's updated annual forecast is even stronger. The company anticipates the aftermarket (Class 6-8 trucks and trailers) will post total sales of $33.3 billion in 2021, up 11.8 percent from last year and $500 million more than 2019.
So that's the good news.
The bad news is the supply chain issues hitting OEM production lines have hit the aftermarket as well. And among those in the know, HDMA's Richard Anderson says market sentiment indicates things are going to continue to get worse until they get better.
"Delays are becoming universal. They have become the norm," says Anderson, HDMA's director, market research and analysis.
Referencing HDMA's ongoing Pulse survey efforts, Anderson says 100 percent of suppliers responding to HDMA's most recent survey indicated they are facing inbound delays for raw materials and semi-finished goods. Outbound delays were a little better at 95 percent, though that number was an increase over supplier sentiment last month and two months ago.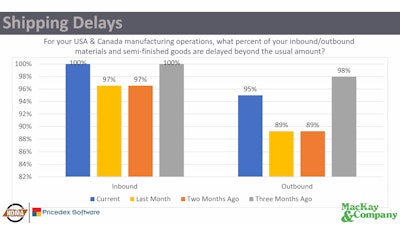 The latter is becoming the trend, Anderson says. Every time he polls suppliers for their thoughts on when things will turn around, the results he receives are more pessimistic.
It happened Wednesday too. Nearly half of attendees to HDMA's Pulse webinar in May indicated they expected the current prevalence and duration of delays to end at the end of Q4. When that same question was asked Wednesday, the number predicting end of Q4 fell to 21 percent, with 48 percent extending their prediction to the end of Q1 in 2022.
"Each time we ask this question the horizon seems to extend further out for our members," Anderson says.
Electronic sub-components remain the biggest supply chain issue, Anderson says, but very few segments of the supply chain are performing well. "The sticking points in the supply chain have yet to become unstuck," he says.
And Economist Bob Dieli with MacKay & Company fears Q1 next year might not even be point the channel is fixed. He says right now component availability dominates supplier concern for obvious reasons, but other issues such as workforce and freight availability exist on the margins. He says as the supply chain slowly normalizes, expect suppliers to turn their attention to those other expenses and points of concern.
Dieli says America is undergoing a comprehensive structural recession. The business practices that come out on the other side of the recession will be "significantly different" than how they were when recession began.
But that doesn't mean Blodgett's good news shouldn't be overlooked. Equipment demand is sky high and parts that are making it to their points of sale are being moved. All dealers and 78 percent of distributors polled by MacKay & Company say they are experiencing fulfillment delays from their vendors, but that hasn't forced anyone into a negative forecast for the year to this point.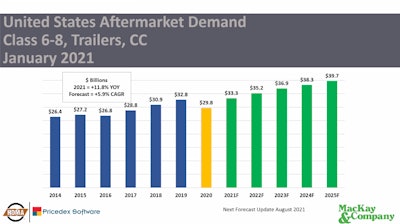 Asked about the biggest long-term concern to supply chain disfunction, Dieli pointed to price. Prices are on the rise everywhere and eventually when the chain stabilizes the impacts of those changes will be felt. Dieli says businesses are absorbing increases now fairly well because of the unique circumstances — when availability is almost non-existent, companies are willing to pay more to get what they require. But he says that might not remain the case in 2022 and beyond.
"Choices made over the next several months will have a bearing on several years down the road," he says.