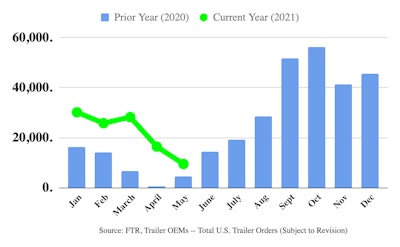 FTR reported Tuesday final net trailer orders sank in May to 9,500 units, 42 percent below April. FTR's report was slightly higher than ACT Research but both firms report build issues are slowing trailer orders across the market.
"The market is in a strange place right now in that the bucket for 2021 orders is almost full, but the bucket in 2022 is essentially empty," says Don Ake, vice president of commercial vehicles, FTR. "We expect abnormally low activity until the 2022 order boards are opened. At that point, orders should shoot back up to near-record levels."
FTR says van orders last month were particularly soft but vocational trailers remain sturdy as the industrial sector of the economy picks up steam. Trailer orders for the past twelve months total 368,000.
The company also notes some fleets are adjusting their requirements due to extended lead times. Ake says freight growth remains robust and fleets continue to need more trailers than can be produced in the short-term.
"The supply chain situation improved some in May, but the industry is still scrambling to catch up," he says. "The environment is expected to improve in the second half of the year but will still impact the industry well into 2022."