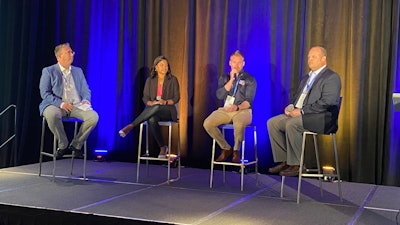 CVSN panelists encourage distributors to get involved in Right to Repair debate
The introduction of the Repair Act into Congress in February was a big step for the automotive and commercial vehicle aftermarkets in their quest to gain access to repair information and earn the Right to Repair.
But panelists Monday at the Commercial Vehicle Solutions Network (CVSN) Summit in Boston note it wasn't the final step. Or even the biggest one. If the North American aftermarket wants to resolve the Right to Repair in its favor, everyone in the industry needs to get involved.
Doesn't matter if your business turns wrenches or not.
Current right to repair memorandums of understanding (MOU) exist in the auto and trucking sectors in both the United States and Canada, but AIA Canada's Alana Baker says these agreements, while helpful, are ultimately just "legally non-binding expressions of goodwill." They are voluntary agreements, Baker says, and manufacturers are hardly consistent in their willingness to follow them. And with vehicle technology becoming increasingly complex and costly, Baker says uncooperative OEMs ignoring MOUs could create a future in which all vehicle owners are limited in where they can repair their equipment.
[RELATED: CVSN speaker asks 'Could AI help you sell truck parts?']
Surveys indicate that's not a future the general public wants, but to avoid it, Baker and Tommy Hickey with the Right to Repair Coalition and Brian Hickey Associates say people must speak up and demand a better, freer service alternative.
Baker says voluntary resolutions are "going to help us to achieve our goal as attended. We need a legislative solution with a strong mechanism of enforcement in place."
Hickey agrees.
"Having [manufacturers] as gatekeepers of vehicle information is bad for consumers. Even if you don't have a shop, we're all a part of this ecosystem … If a taxi driver can't get his car fixed where he wants and a truck owner can't go where they want, that's going to drive up costs for everyone."
During Monday's discussion, moderated by FleetPride's Mike Harris and Marc-Phillipe Beaudoin of UAP, Hickey and Baker urged the distributors and suppliers in attendance to support state, province and federal right to repair legislation, as well as the organizations like AIA and the Right to Repair Coalition that are working to drive these solutions onto ballots.
"If you aren't at the table, you're on the menu," says Hickey. "Be vocal. Be involved."
Baker adds, "We have to demonstrate with tangible evidence and case studies about what are the barriers for our members … We need people to understand the true impact" of customers not having the freedom to choose their service provider.
Economists offer forecasts
Monday at the Summit also included two brief economic updates from Molly MacKay Zacker at MacKay & Company and Scott Huston of S&P Global Mobility.
Zacker's presentation addressed the current medium- and heavy-duty aftermarket and its growth trends into 2024 while Huston focused more on equipment sales.
Zacker says MacKay & Company is forecasting the Class 6-8 truck and trailer aftermarket in the U.S. to grow to $45 billion this year, a 4% rise over 2022. Zacker says about half of that growth will be attributable to price increases — which have slowed in frequency but remain historically high for the industry. Early forecasts for 2024 and 2025 also show 4% annual growth rates.
Additionally, she notes MacKay & Company's most recent Truckable Economic Activity (TEA) forecast from March is now showing unfavorable conditions across the board. Zacker says "we do think business is going to slow down" in the latter half of the year but avoided making any statements on a possible recession, something FTR's Jonathan Starks said may be less likely during the Fullbay Connect conference last week.
In the equipment sector, Huston says S&P's data indicates U.S. commercial vehicle registrations remain below 2019 levels but are expected to rise moving forward. He says pent up demand will continue to drive retail sales in the medium- and heavy-duty markets through 2023 before a slight dip next year. In 2025 and beyond, S&P is anticipating steady year over year growth in both markets.
Huston says in the Class 4-7 sectors S&P believes OEMs will keep production levels slightly below demand in the years moving forward. In the Class 8 market, production and demand are likely to be unison.
Finally, Huston notes the biggest growing segment of new registrations are electric vehicles. He says the commercial EV population is mostly growing in California and states with similar emissions goals. Huston says 73% of commercial EV registrations are buses and cargo vans, applications where EV ownership has a strong use case. But he also notes construction as an industry that's making traction with EV purchases, mostly pickups that can be used in localized operations.