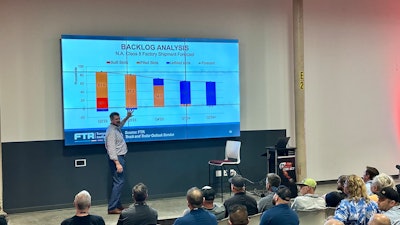 Earlier this year, the R-word was everywhere.
Jonathan Starks, CEO of FTR, says stability has softened his expectations of a recession.
"I think there's some stability coming in," he told attendees of Fullbay's first-ever user conference, Diesel Connect, on Friday in Phoenix.
He outlined economic conditions showing a general return to normal, including inventory, consumer goods and services, total truck loadings, spot rates, trucking jobs, truck utilization and more.
[RELATED: Shop owners talk parts shortage at Fullbay conference]
"We're getting back towards even," Starks says, frequently comparing today's economic indicators with 2019's pre-pandemic numbers.
However, as Starks reminded the room, trucking isn't the same everywhere.
"There is no one trucking market," he says. "There's lots of slightly different trucking markets."
Much depends on what customers the shop owners and managers in the room deal with in their area.
The Class 8 backlog for new trucks is easing and he says FTR is expecting Q2 of this year will see the peak in new heavy-duty trucks, then begin to come down.
"We have an expectation the outlook is going to have to come down," Starks says. "The orders aren't going to be strong enough."
[RELATED: Kettles talk profitable mobile repair at Diesel Connect]
Among issues to watch, he says, are consumer consumption, inventories, construction, new entries into the trucking market and the financial system. Of those, Starks points to the financial system, with a banking crisis, student loan payments and defaults, and interest rates, as the biggest risk.
"This is the one that could potentially explode," he says, significantly slowing down growth in the economy across the board.
Starks ended his Friday keynote by talking about regulations and mandates. He says FTR believes the EPA's recent NOX emissions rules may be the last diesel-specific rule coming out of the EPA. There's no phase-in for that rule, he noted; it becomes effective immediately in 2027. It mandates a longer useful life for the diesel vehicle but, more important to the people in the room, longer emissions-related warranty periods.
As Starks pointed out that warranties will go from 100,000 miles to 450,000 miles for Class 8 trucks, there was a gasp and not a few swear words from the audience.
"That is a very significant change in the market," says Starks.
He also covered new zero-emissions mandates, including projections from the EPA and California's more complex, more robust set of regulations. Starks noted the 100% zero-emissions rule by 2042 was just one generation of truck away.
[RELATED: My team saved my life: Fullbay conference kicks off with inspirational talk from Gadson]
When asked if any of the shops represented in the room had a technician with any certification or training in battery electric or alternate propulsion systems, no hands went up. Starks greeted that silence with a grave statistic.
"This gets implemented in five years," he says. Someone in the audience shouted, "You can't hire anyone for diesel!" to widespread agreement.
The zero-emissions regulations and associated implementation strategies dominated the Q&A. One shop owner asked about brakes – "It's only about 349 pages or so, but I don't recall there being anything on brakes," Starks says – while a bigger discussion opened up about training.
Starks says he didn't know of any programs right now that offered technician training on alternate propulsion systems.