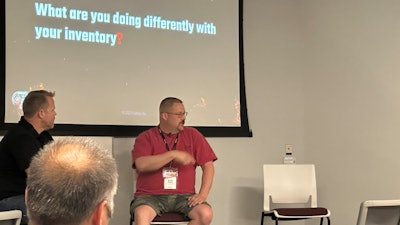 Keith McMaster, president of Fireweed Heavy Truck & Equipment Repairs, once bought an airplane seat for a wire harness.
"And it sat right there on the seat," he told shop owners at Fullbay's first-ever Diesel Connect conference in Phoenix.
McMaster services, by and large, the oil and gas industry in Alberta, Canada, and a truck going down can cost a company tens of thousands of dollars per day.
"If the customer's willing to pay, I'll go," McMaster says. Fireweed bills by the hour with a fuel surcharge.
[RELATED: Kettles talk profitable mobile repair at Diesel Connect]
A quick poll of the room showed that parts were a pinch point for everyone. McMaster thinks that more networking could solve a lot of that problem. He says that a lot of shops don't talk to each other, concerned that the other shops will take their customers.
"We used to think we were an island on our own," he says. Then he went to a conference in Florida and realized everyone thinks they're on an island by themselves. "We're all on the same damn island."
He says that talking to each other would make things easier and that he has no worries that anyone's going to steal his business.
[RELATED: How to ensure technicians get the parts they need in the service bay the first time]
"I'm not going to steal your customers and you're not going to steal mine," he says. "No other shop can offer me. They don't offer me and my personality."
McMaster and the other shop owners couldn't pin down the exact reason they're not seeing parts coming in. Some say it was a closure in the ports, some say it was labor issues in the ports, some say the ports aren't getting the parts, either.
He says that sometimes, he has to prioritize mobile repair over the in-shop repairs, keeping parts on the truck and having the shop order it.
"It's horrible that we have to do that, internally, but I have to get that thing running that night," McMaster says.
He says relationships with his vendors have eased the burden some, and shop owners in the room agreed. This includes aftermarket vendors that McMaster say he was forced to use amid shortages and can offer aftermarket parts if the customer's bottom line demands it.
[ RELATED: My team saved my life]
Overall, the shortages have been a negative impact to his bottom line, he says.
The truck will come in, McMaster's team will give the customer an estimate, and the customer sits on it. By the time they approve the estimate, McMaster's vendor has sold the part and the next available one comes with hefty freight charges that the customer hasn't approved and that Fireweed has to eat.
"It's not fair, but it's right," he says. "We treat our people the way I want to be treated."