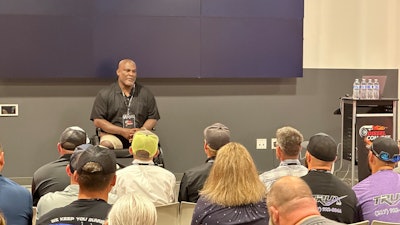 Col. Gregory Gadson played football at West Point and served in the Army for nearly 30 years.
He holds two Super Bowl rings – "I'm 2-0 against Tom Brady," he told the audience at the first day of Fullbay's Diesel Connect conference in Phoenix on Thursday.
But for him, what he calls his Super Bowl, is building a battalion that served in Iraq. A battalion that served its tour without losing anyone and a battalion that ultimately saved his life.
[RELATED: Fullbay shop roundtable talks labor issues]
Gadson's unit was one that he built from scratch. In 2005, he was promoted to command a battalion in Fort Riley, Kansas, to lead what he calls the nation's most precious asset, "those sons and daughters who raise their right hand to defend our way of life."
There are no books on building a unit from scratch, Gadson says, but he was fortunate to play football at West Point under Coach Jim Young, who built a team and culture around the ideals of pride, poise and team.
Pride, Gadson says, is about self-accountability. "Am I willing to live up to my standards and my values? I can't hold anyone else on my team to that standard until I hold myself accountable."
[RELATED: Kettles talk profitable mobile repair at Diesel Connect]
Poise means those grace under fire moments and it's the character of any organization.
Team means that together, everyone achieves more, Gadson says. No one is more important than anyone else and everyone is afforded dignity and respect.
Between his initial assignment in 2005 and the battalion's deployment in early 2007, the mission changed three times. From artillery, to security, to provisional infantry, assigned to a battle space in western Baghdad with two Iraqi battalions to manage violence in the area.
"In those early months in Baghdad, it seemed that every single day, a U.S. servicemember would pay with their lives," Gadson says. "Imagine going to work knowing one of your teammates was not going to make it back alive."
On May 7, 2007, Gadson was returning to his headquarters after a memorial service for two of those servicemembers who served with a sister battalion from Fort Riley.
"I remember the thoughts running through my mind as I headed back to my headquarters," Gadson says. "I remember struggling with the sacrifice of life, wondering what their families were going through, wondering if we were making any progress, wondering if this life was worth it."
Gadson was in a 15,000-pound armored vehicle traveling in an offset formation when his vehicle was struck by a roadside bomb. It was his second time being hit by a bomb and, this time, it was much worse than the first time.
"I can still to this day remember flying through the air, coming to a rolling stop and landing on my back," he says. The last thing he remembers is laying and thinking, "God, I don't want to die in this country."
1st Sgt. Frederick Johnson was the first on Gadson's team to arrive at his vehicle and realize he was no longer in it. Pvt. Eric Brown, a newly minted medic just days from the end of his only training – a two-week course at Kansas State University – applied the tourniquets to Gadson's legs that saved his life.
In the next six hours, Gadson would receive more than 100 pints of blood and die six times.
That same month, 131 servicemembers died in Iraq, Gadson says. More than 10 times that number was severely wounded.
"I am here today because my team saved my life," Gadson says.
Gadson endured surgery after surgery and eventually lost both legs. He has lasting nerve damage in his right arm. Before he was wounded, Gadson weighed more than 200 pounds. Now, he weighed just 148.
"That was the straw that broke the camel's back," he says. "I didn't want to go on with life. I didn't want to be a burden to anyone. I simply wanted to quit."
But, he says, he found out he wasn't a quitter.
"I was not going to look in the past. I honestly had no vision of a future. I had no idea what my life had to offer," he says. "All I could do was hold myself accountable to living today. I was still a father, I was still a husband. I was still a soldier."
Gadson did not allow the Army to retire him medically. He became director of the Army's wounded warrior program and, eventually, became the first wounded warrior to take command of a base – Fort Belvoir in Virginia.
The New York Giants also came calling, and he shared his story with them, inspiring the team to win Super Bowl XLII.
"Your businesses, your organizations, they are conduits for achieving greatness," Gadson told the room full of Fullbay customers, most of whom are small business owners.
He says that, when building your teams and organizations, real leaders understand that tomorrow is not promised.
"Every single one of us in here, one day, will not have a tomorrow. If we lived our lives every day like there wasn't going to be a tomorrow, if we made the most of it, not encumbered by our past, not holding on to something that happened yesterday, not giving energy to a day that we are not promised, we are being present. Not living in the moment, but being where we are, being present," he says. "I had to be present. I couldn't imagine a tomorrow. And there was no yesterday to change where I was at. That's the essence of our lives. That's the opportunity that we have to give to ourselves. We owe that to ourselves. One day, we won't have a tomorrow."