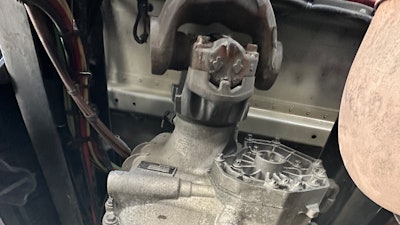 Thanks to collaboration between aftermarket service shops and their vendor partners, a power take-off (PTO) installation problem impacting Freightliner Cascadias has hopefully been resolved.
Trucks, Parts, Service was recently alerted to an issue impacting 2016-2019 Cascadias with DT12-DA transmissions in which the clearance space off the back of the transmission between the driveshaft and an exhaust pipe create challenges for customers who want to install a PTO. The transmission has a mounting position for an external PTO, but close proximity to the driveshaft and a nearby exhaust pipe allow barely 4 in., of space for the PTO. The service provider who alerted TPS to the problem said that amount of clearance enabled a PTO to be affixed but wasn't leaving enough extra clearance for a pump mount.
That was major problem for the service provider's customers, who bought the tractors on the secondary market with intent to use them to haul dump trailers.
[RELATED: Selecting the right wet kit for a heavy truck application]
"It's been a real issue for us" he said. "The customers to look at these trucks and they see the mounting position so they think the truck will work for their application. But then when they bring them in to us, we have to tell them that it's not going to be so easy."
The service provider said the first few occurrences with these trucks were the hardest, with the shop and the customer both flummoxed as to how to get the PTO in place under the vehicle. The service provider didn't want to turn any customers away but also was struggling to find a way to fit the hexagonal peg into the proverbial round hole. "The customers thought the trucks were programmed for a wet kit and they definitely were not," he said.
Yet as more and more of these trucks entered his market, the service provider also realized the clearance problem wasn't rare issue but a legitimate flaw. He said newer model year Cascadias with the same powertrain configuration do not have the clearance issue, nor has it appeared with any other OEMs.
So, he shared his dilemma with the aftermarket.
Another service provider across the country said his customers were coming in with similar requests. They bought these formerly over-the-road tractors with intentions of using them in short-haul applications and were also hitting the PTO installation wall. The second service provider said these trucks required a PTO prep pack but hadn't been outfitted with one. Other trucks flat out didn't have a bottom PTO mount, meaning installers couldn't workaround the rear clearance issue by placing the pump somewhere else.
"We've been pulling out hair out about it for a while," the second service provider said.
Both service providers eventually opened a dialogue with their PTO vendors. Those conversations appear to have finally led to a solution.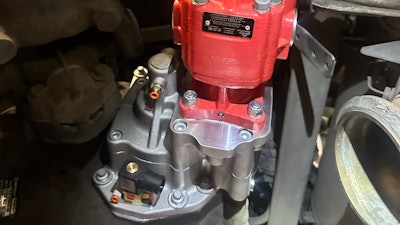 One PTO supplier has an adapter plate that can be installed in bottom-mount positions that works with most transmission gears. In non severe-duty applications, thinner, longer-shaft PTOs are proving sufficient space to move rear mount pumps away from the minimal clearance area by the transmission. Replacing single-shaft drivelines with split shafts also has created versatility for rear mount pumps by essentially creating an auxiliary transmission in the scarce available space.
[RELATED: Proper PTO installation a valuable resource]
The vendors and service shops admit these workarounds aren't flawless, but at least they provide truck owners a solution. The service providers also said they are now attempting to proactively notify customers who run dump trailers, fuel pumps, pneumatic blowers and other equipment that require PTOs of the installation challenge they could face depending on the truck they buy. With workable solutions now in place, the service providers are more confident they can service these vehicle configurations moving forward, but they still want customers to be informed of what they're purchasing.
"I had one customer who bought three of these trucks and intended to use them all in PTO applications," said the second service provider. "He bought one of these workarounds then decided to use the other trucks in different applications where he didn't need the PTO.
"We were glad that worked for him. That's not an option for everybody."