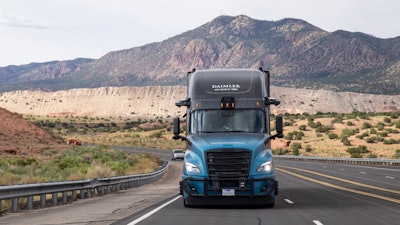 Torc Robotics and Daimler Truck kick off their third year of partnership poised to commercialize the first scalable, profitable Level 4 autonomous truck that will help fleets improve their operations while bolstering the backbone of the U.S. economy. Torc is currently testing the Level 4 trucks on public roads in Virginia, New Mexico and Texas, with continued route expansion in the works, according to an announcement.
The two companies are pursuing a focused, safety-oriented approach to market that also seeks to build trust among fleets and the drivers of vehicles who will share the road.
Introducing a new technology into an existing infrastructure, where human drivers will share the road with automated trucks, requires credibility and responsibility, according to Dr. Peter Vaughan Schmidt, head of Daimler Truck's Autonomous Technology Group.
"As the inventor of the truck, Daimler Truck has many decades of experience in testing and validation of commercial vehicles. Nevertheless, to develop a safe autonomous level 4 truck remains a complex task and resembles a marathon, not a sprint," Schmidt says. "Two years together with Torc Robotics, we have accomplished a lot, collaboratively pursuing a common goal of leading the logistics sector into the future and making road traffic safer for society. I am convinced that we are optimally positioned as a company and together with Torc we have the right partner at our side to achieve our goals."
Torc CEO Michael Fleming describes how Torc's pure-play approach will generate trust among all parties.
"We are concentrating on one OEM truck platform (Daimler Trucks North America's Freightliner Cascadia), one business case (long-haul trucking), and one environment (U.S. interstate highways). Commercializing self-driving trucks is a very complex endeavor and we are first solving the least complex use case, then expanding our product reach as the technical capabilities are proven. I am absolutely convinced that Torc will be the first company to a profitable scalable product in the autonomous truck space. We move to the next level of complexity when we have proven our program," Fleming says.
Expanded testing
Daimler Truck and Torc formed the first strategic alliance between an autonomous vehicle technology firm and a truck original equipment manufacturer (OEM) when Daimler invested in a majority share in Torc in August 2019. Torc operates as an independent subsidiary and serves as the lead for autonomous system development, innovation, and testing with Daimler Truck's internal self-driving truck efforts.
In addition to testing in other regions, Torc manages a fully operational test facility in Albuquerque, N.M., running multiple routes and shifts each day. This past year, Torc expanded on-road testing in the Southwest into Texas. Additional routes are planned, strategically based on major freight haulage, the companies say.
Best-in-class partnerships
Torc and Daimler Truck are building strong partnerships with other technology-forward companies.
"Part of our pure-play approach is to do what we do best and work with others who bring best-in-class solutions. This helps us accelerate our development," Fleming says. This past year, Daimler announced a strategic partnership with Luminar for collaborative development of long-range, hi-fidelity lidar for autonomous trucking and Torc selected AWS as Torc's preferred cloud provider for data handling.
Reinventing the truck
Daimler Truck's subsidiary in North America, DTNA, is reinventing the truck chassis, an industry leading Freightliner Cascadia, to integrate seamlessly with autonomous vehicle systems, adding redundancies for safety-critical components like steering, braking and powernet.
The Torc team continues developing software, testing and systems integration. Developing a vehicle capable of safely and reliably executing commands given by an autonomous driving system requires a fundamentally different approach. Safety-critical components must be designed to detect a failure and invoke redundancy to safely execute its maneuvers. Should any of the most relevant systems encounter a fault, the Level 4 system needs to be able to monitor, assess and deploy backup systems to safely control the truck.
Growth
Commercializing a self-driving truck is one of the most challenging engineering feats of our generation, according to Fleming. To accomplish this, Torc has been growing since partnering with Daimler Truck and has more than doubled its workforce.
Torc also has added power players to its leadership team, with the addition of NASA safety expert John Marinaro as director of operational safety and testing, veteran tech strategist Eddie Amos as chief transformation officer, and technology marketer Jane Bailey as vice president of marketing and communications.
"We've got a power team, power partners and a clear path to commercialization," Fleming says.