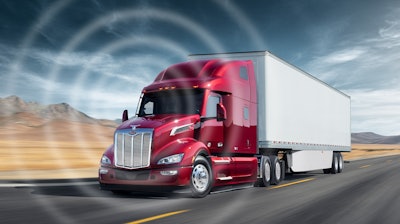 Paccar's truck brands have enhanced the accessibility of the remote diagnostic solutions — Kenworth's TruckTech+ and Peterbilt's SmartLINQ.
The two OEMs announced Monday that truck operators and fleets can now manage their subscriptions to both solutions through the Paccar Solutions web portal. The OEMs say by logging into the portal, customers can quickly and easily renew their subscriptions, manage payment options and monitor subscription expiration dates for all their trucks.
Kenworth also notes TruckTech+ customers can manage subscriptions for trucks that will be added to their fleet in the future and renewals may be made for individual units or an entire fleet. An automatic renewal option also is available for added convenience.
[RELATED: Daimler recalls 124K vans; Ford calls back 31K vehicles]
Peterbilt notes SmartLINQ payments can be made directly via credit card or ACH draft within the portal.
Kenworth says TruckTech+ enhances vehicle diagnostics by providing real-time engine health information to fleet managers and Kenworth dealers to help optimize truck uptime and productivity, and enables fleets to track the location of their Kenworth trucks. Kenworth TruckTech+ notifications provide relevant guidance to the driver and fleet manager on how to proceed. Notifications include options to keep driving and address the alert code during the next service interval, go immediately to a dealer for service, or pull over to prevent possible damage, the company says.
SmartLINQ improves fleet uptime and performance 24/7 through Remote Diagnostics technology that monitors over 800 diagnostic codes and provides real-time service alerts and recommendations, adds Peterbilt. The system automatically sends email warning notifications, as well as the location of the nearest three Peterbilt dealership locations. SmartLINQ also helps streamline service and maintenance and ensures every truck is operating at peak performance, Peterbilt adds.
There are currently more than 130,000 trucks in the U.S. and Canada enrolled in Kenworth TruckTech+ program and more than 100,000 trucks enrolled with Peterbilt's SmartLINQ.