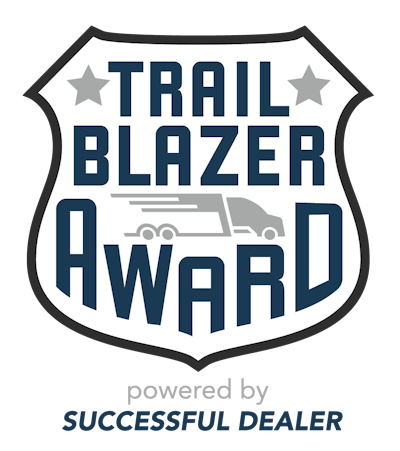 It's time to shine the spotlight on five great trailer dealers.
Trucks, Parts, Service is thrilled to announce the finalists for our first ever Trailblazer Award, powered by Successful Dealer. Developed to recognize and honor North America's trailer dealer community for their essential support of the transportation industry, the Trailblazer Award is graciously sponsored by Hendrickson and Procede Software.
Finalists for our first-ever award are Royal Truck & Utility Trailer, Stoops Trailers, Trailer Equipment, Tri-State Trailer Sales and Vernon Gene's Mega Store. These five dealer groups represent more than a dozen commercial trailer brands and have more than 30 store fronts across the United States.
"I am elated to announce the finalists for our first ever Trailblazer Award," says TPS Editor Lucas Deal. "From the instant we decided to create a program for the trailer dealer channel, I have eagerly awaited the day when we could announce our first group of award finalists. These five dealers do not disappoint. All five are excellent examples of the business savvy and entrepreneurial ingenuity that makes the trailer business so fantastic. TPS looks forward to learning more about each company and sharing their stories with our readers in the coming months."
Finalists for the Trailblazer Award were selected from a group of nearly 30 dealers who were nominated for the award during an open nomination period from March to May 2023. Almost 100 total nominations were received, with several dealers being nominated multiple times by industry partners, colleagues and customers for their business excellence.
All nominated dealers were then asked to complete business questionnaire and provide more information about their operations. The five dealers with the strongest, most comprehensive responses were then selected as finalists for this year's award.
[RELATED: Registration open for 2023 NTDA Convention]
The 2023 Trailblazer Award will be presented Oct. 6, at the National Trailer Dealers Association (NTDA) Convention in Marco Island, Fla.
TPS will profile all of this year's finalists in the weeks leading up to the NTDA Convention before announcing the winner during the convention banquet. For more information about the NTDA Convention, please go to the event website.