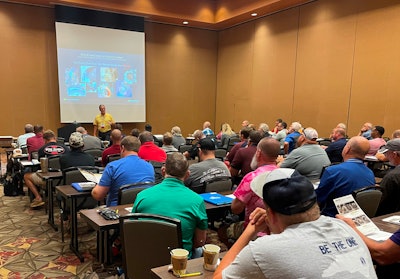 The 2023 ASE Instructor Training Conference in North Carolina was pronounced "a huge success."
[RELATED: ASE Education Foundation thanks sponsors for instructor training]
Hundreds of instructors gathered at the meeting, hosted by the ASE Education Foundation, to learn about best practices, diversity and more. The keynote speech was from Eric Chester, "Building Rockets That Fly: Ensuring the Success of Our Gradutes." Bogi Lateiner also delivered a popular presentation about diversity.
"This year's instructor training conference was a huge success, from the instructional sessions to the networking opportunities to the informational resources that instructors can integrate into their automotive programs," says Mike Coley, president of the ASE Education Foundation. "The attendees heard from experienced OE and aftermarket trainers, enjoyed a keynote speech by Eric Chester and learned about 'Revving up Diversity in the Classroom' from Bogi Lateiner."
The four-day conference was held in Concord, North Carolina.
"Being together under one roof gave the attendees the opportunity to learn, interact and focus on the future," Coley says. "We want to thank the subject matter experts who shared their knowledge and expertise with the instructors and the conference sponsors who helped make this exceptional educational event possible."