Truck tire wheel-off events can cause catastrophic failure so it is important that you remind technicians and customers to follow a proper tire inspection routine to ensure greater tire and wheel-end safety.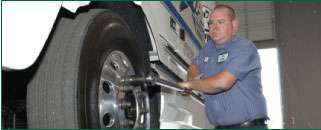 "When wheel-off events occur, they result in damage to property or people, and the main culprit of these events is a lack of basic, routine maintenance," says Doug Jones, customer engineering support manager, Michelin Americas Truck Tires.
The most critical element of any tire maintenance program is maintaining correct tire pressure. Remind customers to have an accurate tire pressure gauge and show them how to check the pressure in the truck's tires everyday on all tires, including inner duals.
During pre- or post-trip inspections, advise customers they should look at the entire wheel end, including the tire, wheel, studs and fasteners, the hub area and the brakes. While there are many different methods for tightening wheel fasteners, the most accurate approach has been the manual torque method. It is important that on disc wheels each fastener is torqued to 400 to 500 ft.-lbs.
In a combined effort with the Tire Industry Association, Michelin has produced a video outlining steps to help ensure wheel-end safety and help avoid wheel-offs or wheel-end fires. It is available on the Michelin Truck Tires YouTube channel (www.youtube.com/watch?v=wrsj2UoMeys) as well as the Michelin Web site, www.michelintrucls.com and TIA Web site, www.tireiindustry.org.