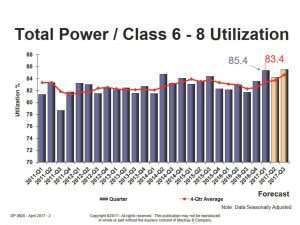 MacKay & Company has released its 2017 Q1 Utilization report for Class 6-8 vehicles and trailers.
According to MacKay & Company, power unit utilization increased to 85.4 percent, an improvement from last quarter as well as from 2016 Q1. In contrast, 2017 Q1 Trailer utilization has dipped from the previous quarter, posting 84.2 percent.
The company says fleets are expecting power unit utilization to be weaker next quarter, followed by a stronger Q3. MacKay & Company says trailer utilization is expected to regain momentum through mid- summer.
"Typically Q1 is a weak quarter for power utilization, but 2017 Q1 is the strongest Q1 value in nine years," says Lynn Buck, research and IT Analyst at MacKay & Company. "The decline in trailer utilization is less about being a decrease and more of a return to normal as it has been abnormally high."