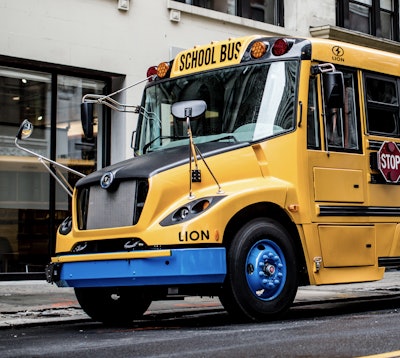 Lion Electric Company announced that the company is preparing to assist customers in securing funding under the first $500 million tranche of the U.S. Environmental Protection Agency's $5 billion Clean School Bus Program.
As part of the Infrastructure Investment and Jobs Act, the U.S. Federal Government has dedicated $5 billion in funding to deploy zero-emission and clean school buses over the next five years, which will help to bring healthy commutes to students around the country, especially in underserved communities which have historically had disproportionately poor air quality. School districts will also benefit from the reduced energy and maintenance costs that all-electric school buses have to offer, according to an announcement.
Details of the program were recently announced, and priority districts can receive up to $375,000 per bus in funding, which can represent up to 100 percent of an all-electric school bus price, while other eligible districts can receive up to $250,000 per bus, thus largely aligning the price of an electric bus to that of a conventional internal combustion engine vehicle. EnergyStar certified charging infrastructure is also eligible for funding, which LionEnergy can also help customers to secure and install. A list of priority districts will be released by the EPA in early May, the company says.
"As the leader in all-electric school buses, Lion is in a fantastic position to help customers secure this new EPA funding for both all-electric school buses as well as charging infrastructure, which in some cases will fund the entire purchase of a new zero-emission Lion school bus," says Marc Bedard, CEO and founder of Lion Electric. "Lion put its first electric school buses on the road in the U.S. in 2016, which have since been driven in real world operating conditions. We are clearly an early mover in the space and, with our planned capacity of 20,000 vehicles per year at our Illinois manufacturing facility, are ideally positioned to put made in America electric school buses on the road at scale. This federal program is a major step in transitioning to sustainable school transportation, bringing significant improvements to the health of our children and communities. We applaud the EPA for their commitment to deploy all-electric school buses."
Through its LionGrants team of funding experts and as an eligible contractor under the program, Lion can apply on behalf of school districts and private fleets, as well as assist them with their own direct applications. Organizations which can benefit from rebates under the program include state and local government entities which provide school bus services, for-profit and non-profit school bus contractors that meet eligibility requirements, non-profit school transportation associations, tribes, tribal schools and tribal organizations, the company says.
The first $500 million in this funding will be awarded this year, with applications expected to be open for a period of 90 days beginning in May. Awardees will then be determined by a lottery system.
Additionally, the LionGrants team is currently actively tracking billions of dollars in available funding across North America and can assist customers in applying to a wide variety of state, municipal, utility and air district funding. Lion Electric is the leader in zero-emission school buses, with more than 550 vehicles on the road and 9 million miles driven.