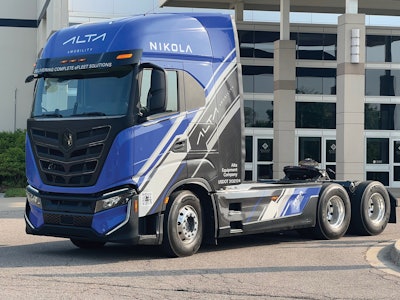 Alta eMobility
Sales territory for Nikola's all-electric and fuel cell tractors has expanded to Michigan where a growing alt fuel dealer thinks they're an ideal fit.
Alta eMobility announced today that it's providing sales and service for Nikola Tre BEV and hydrogen fuel cell electric trucks in Livonia where its parent company Alta Equipment Group has operated for the last 40 years.
With a range of up to 330 miles for the Tre BEV and up to 500 miles for the Tre FCEV, Nikola's Class 8 trucks are ideal for shorter-haul and stop-and-go routes which according to Alta eMobilty are prominent in Michigan due to its international border crossings and multiple ports.
Bringing Nikola's zero-emission trucks to Michigan also supports the state's measures to deliver a carbon-neutral economy and significantly reduce greenhouse gas emissions by 2030 as laid out in Michigan's MI Healthy Climate Plan.
[Related: Nikola trucks going to J.B. Hunt]
"This agreement marks an important opportunity for Alta, Nikola, the State of Michigan and the thousands of companies putting fleets on the road every day," said Ryan Greenawalt, chairman and CEO of Alta Equipment Group. "Alta is committed to helping customers hit their sustainability objectives by supporting them in every step of the journey, from planning to execution to maintenance, and we're proud to now be able to provide all of the expertise and services of Alta eMobility to the state we call home."
Alta eMobility vice president Mike Bucci looks forward to serving their longstanding customer base in Livonia and welcoming new clients into the fold.
"Alta eMobility is thrilled to expand dealership territories into our home state," Bucci said. "There are many synergies between our verticals and current customers already. This expansion will enable us to help our customers rapidly meet their sustainability goals."
Alta eMobility markets only Nikola trucks and also has dealerships in Connecticut, Florida, Illinois, Maine, Massachusetts, New Hampshire, New Jersey, New Hampshire, New York, Pennsylvania, Rhode Island and Vermont.
Alta eMobility offers a turnkey transition to zero-emisson Nikola tractors which includes a fleet assessment; a customized plan that covers tractors, charging, rebates and incentives; charger installation, tractor delivery and set-up including software integration; and service and maintenance appointments.