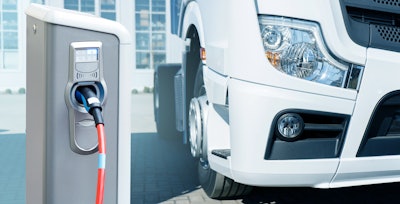 The California Air Resources Board (CARB) and transportation nonprofit CALSTART have launched Cal Fleet Advisor, a free assistance program to help owners and operators of medium- and heavy-duty vehicles and fleets make the transition to zero-emissions.
Applications for the program are now being accepted, the organizations state.
In April, CARB approved the Advanced Clean Fleets rule, which puts in place a phased-in transition to accomplish Gov. Gavin Newsom's goal of fully transitioning the trucks that travel across the state to zero-emissions technology by 2045. Under the new rule, some vehicle types where zero-emissions technology is currently available must start the transition by 2024. Other vehicle types have later deadlines, and options to transition a percentage of their fleets to meet required zero-emissions milestones.
CARB and CALSTART state Cal Fleet Advisor was launched to provide personalized guidance in understanding and meeting the requirements, including getting information about funding and other assistance that will be made available. Participants in Cal Fleet Advisor will receive assistance through an assigned program expert that will serve as a single point of contact for questions and needs, including an individualized action plan that will provide information about approved technology and funding options for fleet owners and single operators.
[RELATED: New study shows more than 140K electric trucks on order in U.S.]
"The transition to zero-emissions transportation – and to cleaner air – means working collaboratively with the owners and operators who provide a critical service to California's economy by transporting goods across the state," says CARB Chair Liane Randolph. "Cal Fleet Advisor is an example of the innovative outreach and assistance that California has committed to provide to make a zero-emissions future a reality."
The entities add the program will prioritize smaller businesses and independent owner-operators, with a focus on disadvantaged communities that often have challenges accessing government assistance programs. Drayage owner-operators are encouraged to apply, as the requirements for their transition toward zero emissions start in 2024. Other services provided will include document tracking assistance and liaison support as needed, the entities add.
To learn more about Cal Fleet Advisor, application requirements and how to receive personalized assistance, visit the Cal Fleet Advisor website.