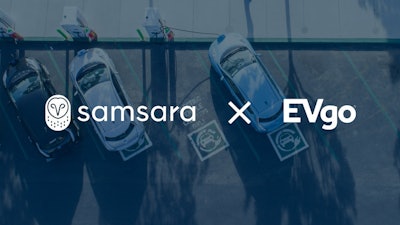 Samsara
Samsara announced it has partnered with EVgo to help customers accelerate their transition to electric.
EVgo is the first electric vehicle partner on Samsara's Experts Marketplace, a network of trusted, certified implementation experts.
The adoption of EVs has increased rapidly over the years. Since 2018, Samsara customers have driven more than 160 million cumulative hybrid and electric miles. Fleets across several industries, from passenger transit to government agencies, are eager to accelerate their transition to EVs to meet emissions targets, decrease total cost of ownership and improve their overall environmental footprint. These efforts will contribute to more than 6 million commercial EVs expected to be on the road globally by 2025, Samsara says.
EVgo is on a mission to expand the ecosystem of charging stations and enable electrification of the transportation sector. EVgo designs, owns, operates and maintains a network of more than 1,100 Level 2 chargers and 800-plus direct current fast charging locations across 34 states. As a certified partner on Samsara's Experts Marketplace, EVgo can now serve as a resource and implementation partner for Samsara customers interested in taking their next step toward electrification.
"The transportation market is electrifying at a rapid pace. Electric vehicles provide an incredible opportunity for commercial fleets when it comes to making a sustainable impact," says Jonathan Levy, EVgo chief commercial officer. "Samsara serves more than 20,000 customers across industries that are ripe for electrification and we're excited to partner with them to further accelerate the adoption of EVs."
In addition to maintaining the largest public fast charging network in the United States, EVgo provides a number of options to help light, medium and heavy-duty fleets electrify.
These options include:
Public fast charging: EVgo provides fleets access to their existing and growing network of EVgo public fast chargers, which has an uptime rate of 98 percent.
Dedicated charging hubs: EVgo can build dedicated charger hubs for fleets without consistent "home base" charging or who need additional "opportunity" charging on the go.
Fleet depots: EVgo offers turnkey depot solutions that span the entire value chain for fleets, including transition planning, infrastructure deployment, equipment provisioning, software and networking, and ongoing maintenance.
"Fleet electrification is top of mind for a number of our transportation customers, but the process of adopting EVs can present unique operational challenges," says Christopher Mozzocchi, Samsara director of OEM products and ecosystem integrations. "Partnering with EVgo will ensure our customers have the expertise and EV infrastructure needed to meet their sustainability goals."