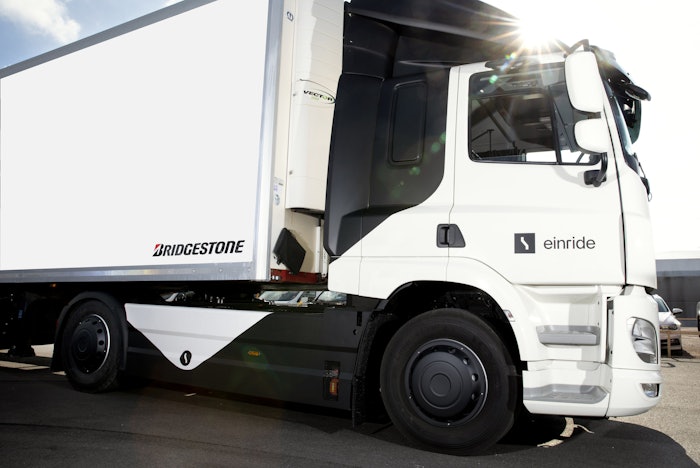 Bridgestone Americas and Einride announced a partnership aimed at co-creating innovative and sustainable mobility solutions for electrified and autonomous Class 8 vehicles.
The collaboration will enable Einride to collect new layers of safety and efficiency-related data from Bridgestone's smart-sensing tires, while enabling Bridgestone to integrate its advanced mobility technologies into Einride's onboard vehicle platforms. Together, the companies will work towards a more sustainable future for large commercial truck fleets, according to an announcement.
As part of the agreement, Bridgestone will become the official U.S. launch partner of Einride and the exclusive tire supplier for Einride in the U.S. market. In turn, Einride will supply connected electric trucks and digital services under a subscription agreement to join Bridgestone's U.S. logistics network. The partnership aims to grow Bridgestone's electrified vehicle fleet over time and reduce the company's carbon footprint. The initial truck deployment will transport Bridgestone tire inventory between the company's LaVergne, Tenn., commercial truck tire manufacturing plant and Lebanon, Tenn., distribution facility.
"We are incredibly excited about this partnership and the opportunity to accelerate our shared goal of creating innovative solutions for fleets while advancing the transformation of Bridgestone into a sustainable solutions company," says Nizar Trigui, chief technology officer and group president, solutions businesses, Bridgestone Americas. "There is a very high ceiling for innovation within this relationship, including the use of vehicle and tire data and advanced analytics to drive efficiency, safety and low-carbon fleet mobility."
Bridgestone is building on its 90 years of core tire engineering expertise and expanding its offerings to include sustainable mobility solutions, the company says. The company's global environmental goals include a 50 percent reduction of its carbon footprint by 2030, and carbon neutrality by 2050, as well as tires made from 100 percent renewable materials by 2050.
Worldwide, Bridgestone has a growing portfolio of innovative technologies and business solutions aimed at advancing safer, more efficient and sustainable mobility, including Webfleet Solutions, IntelliTire telematics and REACH streamlined service delivery for fleets.
"Partnering with Bridgestone is a great match for us both from a commercial and technical standpoint," says Niklas Reinedahl, general manager, Einride North America. "We have an ambitious business plan for electric and autonomous transportation in the U.S. as well as innovative plans to improve our capabilities by leveraging tire-as-a-sensor technology and insights derived from the tire telematics data."