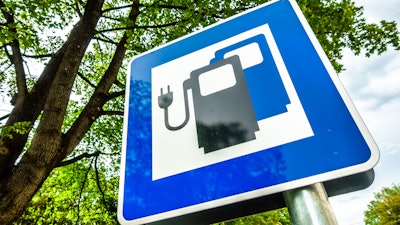 A potential electric truck future took a key step forward this week.
The race to widely deploy electric vehicles has largely been a case of chicken and egg. Without the infrastructure to charge them, consumers en masse had no incentive to purchase EVs. Yet, with no EV density on the highway, there was no incentive to install infrastructure. Until now.
The Biden-Harris Administration Tuesday approved electric vehicle infrastructure deployment plans for all 50 states, the District of Columbia and Puerto Rico ahead of schedule under the National Electric Vehicle Infrastructure (NEVI) Formula Program, established and funded by President Joe Biden's Bipartisan Infrastructure Law.
The approval unlocks access to more than $1.5 billion through next fiscal year to help build EV chargers covering approximately 75,000 miles of highway across the country. The NEVI formula funding under the Bipartisan Infrastructure Law, which makes $5 billion available over five years, will help build a convenient, reliable and affordable EV charging network across the country.
"America led the original automotive revolution in the last century, and today, thanks to the historic resources in the President's Bipartisan Infrastructure Law, we're poised to lead in the 21st century with electric vehicles," said Pete Buttigieg, U.S. Transportation Secretary, in announcing the plan. "We have approved plans for all 50 States, Puerto Rico and the District of Columbia to help ensure that Americans in every part of the country – from the largest cities to the most rural communities—can be positioned to unlock the savings and benefits of electric vehicles."
California is slated to get the single largest slice of the funding, more than $383,000,000 through 2026. Florida, at $198,000,000 is next. Washington D.C. ($16,600.000), New Hampshire ($17,200,000), Delaware ($17,600,000) and Hawaii ($17,600,000) were among the states receiving the lowest amounts. Puerto Rico was allocated $13,600,000.
[RELATED: Find a state-by-state allocation breakdown here]
The administration says states can use NEVI Formula funding for projects directly related to the charging of a vehicle, including upgrading of existing and construction of new EV charging infrastructure; operation and maintenance costs of these charging stations; installation of on-site electrical service equipment; community and stakeholder engagement; workforce development activities; EV charging station signage; data sharing activities; and related mapping analysis and activities.