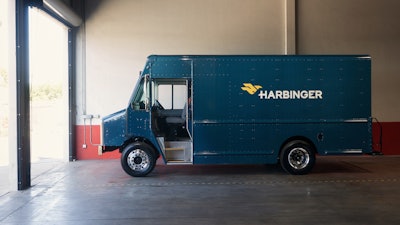 Harbinger continued its busy September Tuesday, announcing a partnership with Autel Energy, an energy management company and leading provider of EV charging solutions.
The partnership comes on the tail of both companies' successful showing at the North American International Auto Show in Detroit, where Harbinger officially unveiled their company and flagship medium-duty electric truck platform to the world.
Autel Energy will support Harbinger's pilot program customers with flexible charging solutions in addition to supporting fleet customers long-term with charging support that interfaces directly with Harbinger's fleet management interfaces.
"Harbinger's fully-integrated electric powertrain paired with Autel Energy's high-quality and fleet-capable EV charging hardware and software is the perfect match to excel in the Class 4 to 7 vehicle segment," says John Harris, CEO of Harbinger. "We look forward to working with Autel Energy to electrify the future of the medium-duty industry."
Finding the right EV charging partner is essential in solving the EV commercial truck puzzle for Harbinger and its customers, the company says. Charging technology needs to be flexible, compatible, and robust to meet the duty cycles of their fleet partners.
With Autel Energy's launch of its MaxiCharger platform at NAIAS, Autel further demonstrated that they can "Power the Planet" as the automotive industry transitions to electrification. Harbinger and Autel share a joint focus on eliminating barriers to mass adoption and offering seamless connections to the industry's current operations, the companies say.
[RELATED: New OEM Harbinger unveils electric medium-duty platform]
"Autel Energy is one of the most innovative, exciting, and progressive companies I have seen during my 30 years in the automotive space, and we are leading the industry forward," says John Thomas, COO, Autel Energy North America. "After understanding Harbinger's approach to address the needs in the class 4 to 7 market, we knew it was a company we wanted to partner with because we share a very aligned vision, passion, and mindset."
"We know the formula for success is to have the best electric truck solution in the market, supported by the best charging systems, backend tool set, and dashboards for easy and intuitive operations," adds Harris. "After canvasing the available technology, EV charging platforms, and OEMs, it was clear that Autel was the right charging partner. Their customer-centric, vertically integrated approach matches the thinking and DNA of Harbinger."