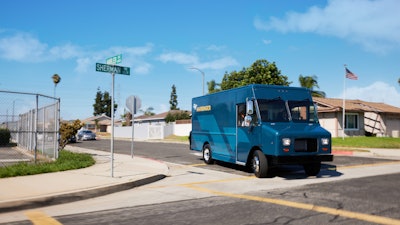 New medium-duty OEM Harbinger announced Wednesday a new collaboration with Wabash that aims to leverage Wabash's industry-leading expertise in composite materials in the last-mile delivery space.
Harbinger says the persistent driver shortages that logistics providers now face are driving new demands for vehicles that are comfortable to operate in all climates. At the same time, stubbornly elevated fuel prices, widespread emissions reduction targets, and an increased public awareness of the impacts of climate change are raising the pressure on manufacturers to reduce vehicle weight, leading to competing engineering demands that cannot be satisfied using yesterday's technology.
[RELATED: New OEM Harbinger unveils electric medium-duty platform]
"Electrifying the medium-duty trucking industry will only happen with the commitment of manufacturers, distributors, and technology companies who are actively seeking innovative solutions to define the next frontier of the industry," saysJohn Harris, CEO, Harbinger. "We are working closely with industry leading partners like Wabash to bring the commercial electric vehicles to market that are so desperately needed today to improve supply chain efficiency and reduce environmental impacts."
With 13 primary manufacturing locations, over 6,000 employees, and over $1.8B in revenue in 2021, Wabash is attacking the challenges of electrification with scale and experience. The company has a comprehensive network of dealers, parts, services, and upfit capabilities to streamline the ownership experience for end users.
As the first company to develop an entirely new, vertically integrated electric platform for the medium-duty segment, Harbinger's vehicles offer improvements in safety, driver experience, and productivity, tuned to the needs of commercial fleet operators and specialty vehicle customers.
"We're excited to continue our collaborations with electric vehicle manufacturers like Harbinger to deliver sustainable solutions in the last-mile and home delivery market," says Dustin Smith, chief strategy officer, Wabash. "Wabash intends to be at the forefront of the commercial EV market, leveraging our proprietary DuraPlat and EcoNex material technologies to reduce weight without sacrificing structural integrity of the vehicle. By combining Harbinger's electric chassis with our lightweight and long-lasting truck bodies, together we are building solutions that are responsive to today's dynamic market conditions."