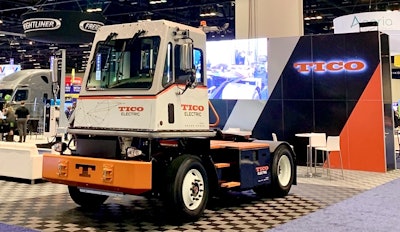 TICO Manufacturing, the leading terminal tractor manufacturer and one of the largest terminal tractor fleet owners and operators in North America, announces the full production of its Pro-Spotter Electric terminal tractor.
TICO has partnered with Volvo Penta to integrate their proven driveline, batteries and e-accessories featured throughout the Volvo Group into the Pro-Spotter Electric (EV unit). TICO has secured its first orders for the model as part of a pre-series run and will deliver its first retail unit in May 2023 with full production commencing later in Q2 of this year. The partnership was announced during ATA's Technology & Maintenance Council (TMC) Annual Meeting and Expo in Orlando this week.
"As a pioneer in the industry for alternative fuels and sustainable solutions, TICO is committed to providing cutting-edge technology to our customer partners while remaining focused on superior equipment and elite support. Fleet sustainability is a growing priority that TICO is tackling head-on," says Mallery Pindar, director of sales, marketing, and commercial development for TICO
The latest in TICO innovations, the EV truck combines the power and durability of the TICO Pro-Spotter truck with the proven electric design, reliability, and components of the Volvo Group. This means industry-leading equipment and technology, backed by a real-time service management platform, integrated battery monitoring service, and dedicated support network to keep fleet operators on the move, the company says.
"Volvo Penta is committed to sustainable power solutions that meet the industry's net-zero ambitions," says Darren Tasker, vice president of Industrial at Volvo Penta North America. "The production of the TICO EV terminal tractor with the Volvo Penta driveline is already making its mark within the industry, and we are excited to be partners on this exciting and innovative electromobility journey."
"Volvo Penta has a vision to be a leader in sustainable power solutions, and TICO is a very important part of this transformational journey," he adds. "Partnering with TICO on our project to introduce an emission-free, electric terminal tractor leverages Volvo Group technology and Volvo Penta's experience and full-system approach to the electric driveline—from development to installation—and TICO's manufacturing capabilities and extensive customer service and support. We are growing and innovating together to secure market position and achieve a technologically advanced powertrain portfolio."