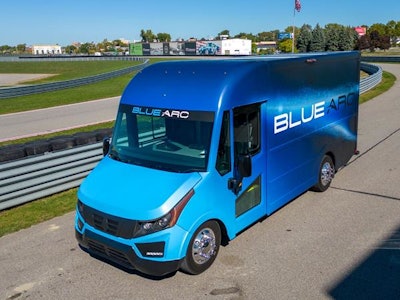 The Shyft Group announced Monday it has completed testing and received certification from the U.S. Environmental Protection Agency (EPA) for the company's Blue Arc EV Solutions Class 3, 4 and 5 electric delivery vehicles.
EPA test results have revealed the Blue Arc Class 3 all-electric delivery vehicle can achieve up to a 200-mile range based on the EPA cycle test with a 165kwh battery pack. This provides Shyft customers with a driving range that can comfortably handle and in many cases exceed a daily last-mile delivery route, the company says.
"With a range of 200 miles, this changes the game and opens up new possibilities for electrifying last-mile delivery," says Shyft Group CEO Daryl Adams. "Our approach has been to focus on the engineering and product development of Blue Arc EVs, making sure we get that right first and foremost. When we get that right, and I believe we have, our customers are taking notice and we expect to secure additional production contracts in the near future."
[RELATED: Kriete Group invests in charging infrastructure to support EV customers]
According to the company, certification from the EPA represents an important milestone that helps clear the way for Shyft's Blue Arc vehicles to start production and be sold across the U.S. Shyft expects final approval from the California Air Resources Board in the near term. Shyft recently announced a $16-million investment at the company's Charlotte, Michigan, campus to begin assembly of the electric vehicles in the second half of 2023. An initial pre-order for 2,000 of the all-electric vehicles was placed by Randy Marion Dealer Group.
In addition to the range, the Blue Arc Class 3 van received a 45 MPGe combined city/highway rating from the EPA. This means Blue Arc EVs can provide customers with more cargo carrying capacity and more range at the same time, Shyft adds. The Blue Arc engineering team is able to achieve these results partially through optimizing the chassis and lightweighting the body to create an efficient and high-performing electric delivery vehicle, the company adds.