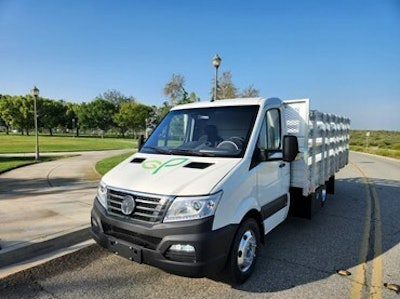 GreenPower released the EV Star Utility today, an all-electric, all-aluminum utility stake bed truck.
Designed for vocational applications such as landscaping, construction, agriculture and more, the EV Star Utility features a payload of up to 5,740 pounds, up to 150 miles of range and an inverted T flooring for a watertight, antiskid and washable interior.
[RELATED: $400 million in grants to fund cleaner school buses]
"With the EV Star Utility, we set out to create an all-electric vehicle that would quickly solve the supply and demand problem for the electric medium- and heavy-duty vehicle market, which has traditionally been dominated by gas-guzzling, carbon-emitting vehicles," says Claus Tritt, vice president of medium-duty and commercial sales at GreenPower. "At GreenPower, we will continue to make vehicles that are cleaner and more efficient while providing our customers with a one-stop shopping, zero-emission solution that reduces operating costs."
The EV Star Utility body is built by Lion and uses a battery pack of 118kWh. It will charge up to 19.2 kW on a standard Level 2 J1772 protocol or 60kW using a DC fast charge.
The EV Star Utility and other GreenPower electric vehicles are eligible for up to $40,000 in tax credits under the Inflation Reduction Act, the company says. The trucks also qualify for the New Jersey ZIP Program, which opened in April with funding of $90 million.