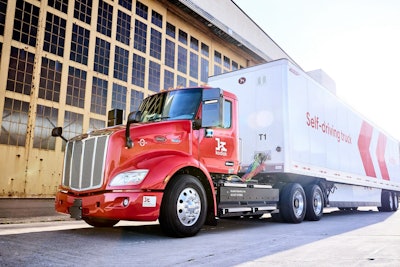 Kodiak Robotics introduced an autonomous, electric Class 8 truck. The company says the upfitted Peterbilt Model 579EV is the first of its kind.
"We believe that the future of trucking is the combination of electric and autonomous vehicles," says Don Burnette, founder and CEO of Kodiak Robotics. "Given advancements in battery and fuel cell technologies, achieving zero-emissions trucking will soon be within reach."
[RELATED: Waabi launches Million Mile Driver Advisory Board]
The new truck will enter Kodiak's fleet in 2024.
Kodiak says the Peterbilt Model 579EV, which has a peak power rating of 670 horsepower and can be recharged in as little as three hours with a range of 150 miles, is the perfect test vehicle for Kodiak.
"Kodiak's work on the Peterbilt Model 579EV will help us gain valuable experience in how to build autonomous electric vehicles and help us realize that vision," Burnette says. "Customers have been long asking for an autonomous electric vehicle and we are delivering on that need."
Kodiak says it will also explore other sustainable vehicle platforms, such as fuel cells, as they come to market.