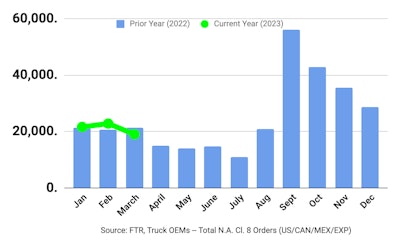 Preliminary Class 8 truck orders slipped back under the 20,000 unit threshold in March, falling for the fifth time in the last six months, ACT Research and FTR both reported Tuesday.
ACT Research's preliminary North American order total for March was 19,200 units; FTR was slightly lower at 19,000 units. On a month-to-month basis, ACT says orders were down 19% against February and 10% against March 2022. FTR says orders were down 18% from March and 11% compared to March 2022.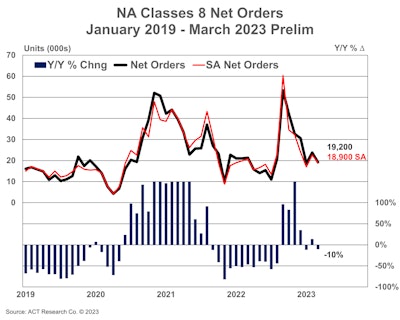 The two firms both said the slip in orders was to be expected. FTR says order activity is "in line with market expectations" and has an annualized rate of 340,000 units over the last six months. Class 8 orders also have total 301,500 units over the last year, the company says.
"With build activity over the last several months hovering near 27,000 units, backlogs likely fell during the month. Given that backlogs are sitting at such high levels, however, it is difficult to ascertain if there is a fundamental weakening in the Class 8 equipment market given order activity levels. The incoming order rate for March was 228,000 annualized, right in the sweet spot at replacement demand levels," says FTR Chairman Eric Starks.
FTR adds reduced order levels will continue through the summer months as the industry starts to enter the normal seasonally weak order period. Fleets continue to request equipment, FTR says, and quote activity has been in line with past seasonal behavior.
ACT Research had a similar market assessment.
"Given how robust Class 8 orders were into year end and ensuing backlog support, coupled with increasingly cautious readings from the ACT Class 8 Dashboard, we have expected seasonally adjusted orders in a range of 15- to 20,000-units per month into mid third quarter of 2023," says Eric Crawford, ACT vice president and senior analyst. "After coming in stronger than expected last month, seasonally adjusted Class 8 orders fell back within the 15- to 20,000-range and have averaged 19,500 units year to date."
[RELATED: Cummins announces intent to invest $1 billion in U.S. manufacturing]
Starks adds, "The numbers were solid and will have little impact on production levels over the next two quarters. Given the uncertainty in the economy, this is a welcome sign that demand has not collapsed and that fleets still have access to capital."
In the medium-duty space, ACT Research says Class 5-7 orders were 18,600 units in March.
"Medium-duty demand declined year over year by double digits for the second consecutive month. March Classes 5-7 orders declined 15% year over year and 9% month over month," Crawford says. "The seasonally adjusted March intake, at 16,900 units, declined 16 year over year and 6% month over month."